TV Bits: 'Parks & Recreation', 'The Office', 'Downton Abbey', 'The Newsroom', 'Burn Notice', 'American Horror Story', 'Revenge'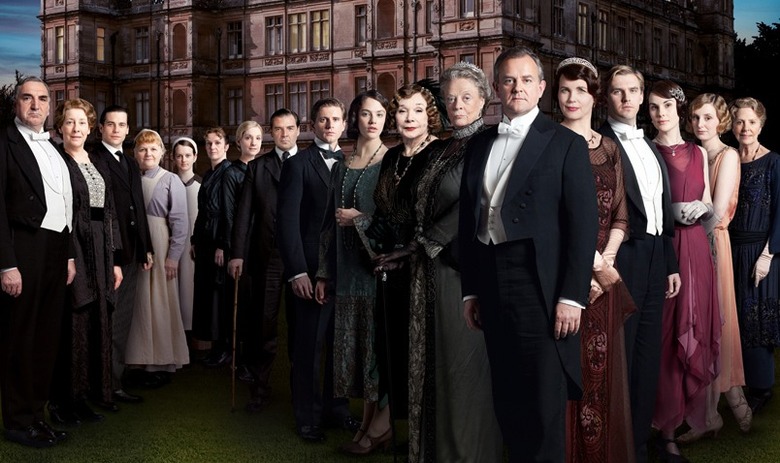 There's a load of brief TV news to offer up today, so let's get right to it:
Real-life pols will cameo in Parks & Recreation's fifth season
Mindy Kaling will reprise her role as The Office's Kelly Kapoor
Speaking of which, here's a poster for her new show The Mindy Project
Downton Abbey's third season trailer hints at the twists to come
Aaron Sorkin fires a lot of The Newsroom's writing staff
Patton Oswalt and Det. Kima Greggs (a.k.a. Sonja Sohn) head to Burn Notice
Clea Duvall joins American Horror Story's second season
Revenge casts Jennifer Jason Leigh as a presumed-dead character
John McCain, Barbara Boxer, and Olympia Snowe will all appear as themselves in a scene set at a cocktail party attended by Ben and Leslie (Amy Poehler). Unfortunately for Leslie, there's no mention of Vice President Joe Biden, her one-man "celebrity sex list." The episode will air September 27, and will also feature April (Aubrey Plaza) and Andy (Chris Pratt) hitting the town. [via TV Line, Vulture]
Mindy Kaling's found a promising new gig as writer, producer, star, and creator of Fox's The Mindy Project, but it seems she hasn't quite forgotten about good old Dunder-Mifflin. Kaling will return to NBC's The Office for at least two episodes of the show's ninth season. It's unclear whether those two episodes will comprise a sendoff for Kelly Kapoor, or whether she'll simply recur in a supporting role. [Vulture]
But speaking of that cushy new job, here's a new poster for Kaling's The Mindy Project: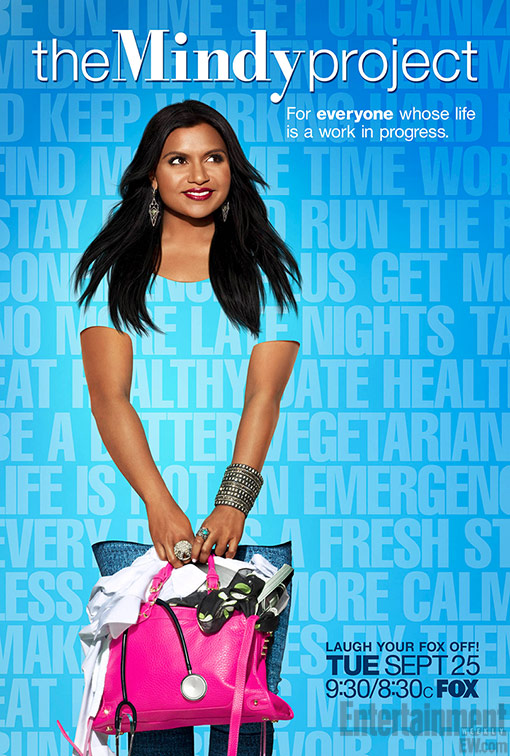 The Fox comedy will see Kaling playing an OB/GYN who has trouble getting her personal life together, and will be paired with another female-centric comedy — New Girl — on Tuesday nights starting September 25. [EW]
Journalists at the Downton Abbey TCA session were treated to a glimpse of the drama's third season. While I'm sorry to say we don't have the actual trailer here for you to view, here's a description from Deadline, which was in attendance (spoilers follow):
While who knows how it will all unfold, the Right Honourable Robert Crawley, Earl of Grantham (Emmy nominee Hugh Bonneville) is seen tearfully confessing to wife Cora (Elizabeth McGovern) that he has lost all the family money (!) including hers. Maggie Smith's ascerbic Dowager Countess is as sharp-tongued as ever in her exchanges with newcomer Shirley MacLaine as Martha Levinson (although after the session creator/writer/executive producer Julian Fellowes said Smith had not yet signed on for a fourth season: "Our conversation is just: 'Please stay', we don't really deal at this stage," he said). And it seems that Mary (Emmy nominee Michelle Dockery) and Matthew (Dan Stevens) are not quite settled in their planned marriage after all.
Head to EW and TV Guide for some more juicy highlights and spoilers from the event.
Much like the fictional TV program it's about, Aaron Sorkin's troubled HBO drama The Newsroom is experiencing some behind-the-scenes turbulence. The Daily reports that Sorkin has fired nearly the entire writing staff of the series. It's unclear just how dramatic the cuts were. Sorkin himself (obviously) and his ex-girlfriend Corinne Kinsbury are still on staff, but some reports say they're the only ones left while others indicate that they're just two of a handful of writers who remain.
HBO, for its part, insists that "there's nothing out of the ordinary" about the staff shake-up, and indeed such turnover isn't entirely unheard of. Besides, Sorkin's well known for doing most of the writing on his own shows anyway. If I had to guess, I'd bet that the next season will feel just as Sorkin-y as the current one does. [via The AV Club]
And finally, a few quick casting notes...
Burn Notice isn't a show we talk about much, but two new bits of casting have just caught our attention. Patton Oswalt and The Wire's Sonja Sohn are set to appear in recurring guest roles on the USA series, which is in its sixth season. Oswalt will appear in episodes 14 and 15 as Colin Schmidt, a "quirky" smuggler whose services don't come cheap, while Sohn will recur starting in episode 13 as a high-ranking CIA director. [EW]
American Horror Story's already sprawling cast continues to expand with the addition of Clea Duvall, who's just signed on for a multi-episode arc on the show's second season. The exact nature of her character's being kept under wraps, though the word is that she'll share scenes with Sarah Paulson.
Set in the 1960s, the next season of AHS will take place at an East Coast asylum for the criminally insane, run by Jessica Lange and James Cromwell's characters. Lange and fellow returning stars Paulson, Zachary Quinto, Evan Peters, and Lily Rabe will be playing all-new characters. In addition, the cast includes a number of fresh faces, including Chloë Sevigny, Adam Levine, Lizzie Brochere, and Joseph Fiennes. [TV Line]
ABC's Revenge threw audiences for a loop at the end of last season with the reveal that (spoiler alert!) Emily Thorne / Amanda Clarke's presumed-dead mother was actually alive, but it sounds like the character will be making up for lost time the new season. TV Line reports that Jennifer Jason Leigh has just been cast as Kara Wilkins, and will recur starting early in the show's second season. Creator Mike Kelley describes as "volatile and dangerous," with "some deep psychological issues."