/Film Exclusive: Mondo's Poster For The Hilarious Comedy 'Klown;' Plus Video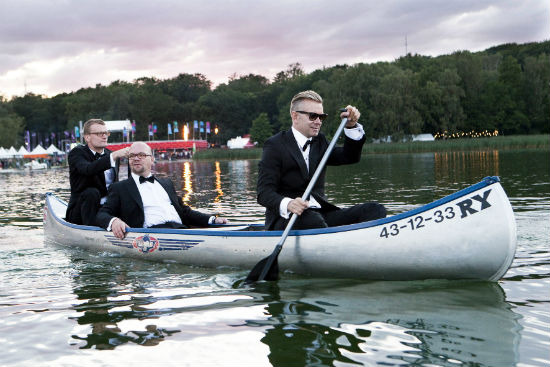 The Summer of 2012 has been pretty light on comedy. Ted was certainly funny and 21 Jump Street, a few months back, was a welcome surprise but so far we're still searching for that breakout, quote with your friends, insane laugh fest that Superbad, The Hangover and others have been in recent years. For your consideration, I present Klown.
The Danish film from director Mikkel Nørgaard follows two men, played by Frank Hvam & Casper Christensen, who leave their lives for a raunchy weekend getaway. Things go from inappropriate to downright offensive, though, when the 12-year-old son of one of their girlfriends joins them on the trip. It's on track to get a Todd Phillips/Danny McBride remake in the future.
Klown is being released in New York, Los Angeles, Austin as well as Video on Demand this Friday, July 27, and to commemorate the occasion, Mondo has commissioned artist Alan Hynes to do a very limited screen print. You can check that out after the jump, along with a video showing a special event where fans took canoes down a river, just like in the movie, to see the movie.
Here's Mondo's poster for Klown by artist Alan Hynes: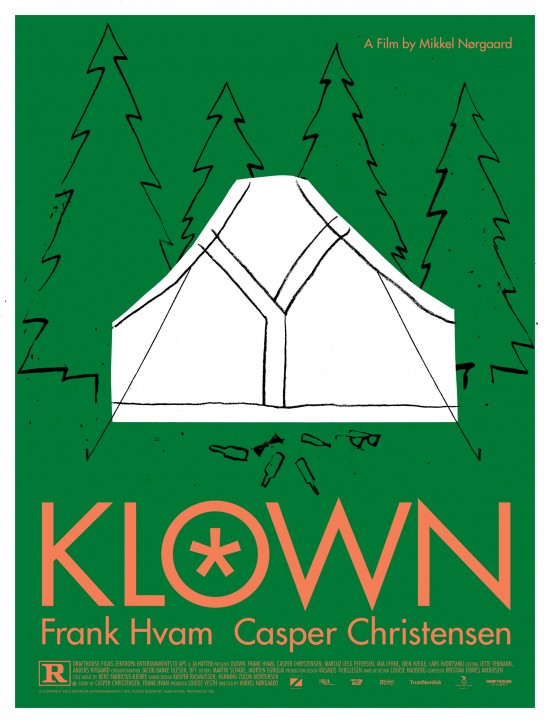 It's an 18 x 24 inch screen print in an edition of 140 which will go on sale Tuesday by following @MondoNews. Here's what Hynes had to say about his concept and design of the poster:
I watched the movie a couple of times – it's crude, it's subtle, it's funny, it's pretty messy. I really liked it. The underpants as tent idea has the subtle humor angle on a couple of different levels, but it's the rudimentary drawing that captures the often childish nature of the film's comedy that I believed essential to communicate. I broke out some scissors to cut the underpants shape and then quickly drew a few lines on some tracing paper. I'd never be able to repeat the carelessness of these lines after thinking about it for even a minute, so I used the very first ones I did. The trees, however, were another matter. I literally drew hundreds of them before I got them "right". The irony of making a supposedly nonchalant sketch in this manner is not lost on me. I think it ended up somewhere between a bad copy of a Charles Schultz cartoon crossed with a Henryk Tomaszewski poster, a combo I think actually represents the film quite well.
The simplistic bold look of the poster takes a cue from the original look of Klovn series; large Futura type and negative space, very Euro. I think it's necessary to have some sort of link to the pre-existing imagery rather than totally disregarding it over a new style. The green expanse is a nod to the drink featured so prominently in the film so coolorwise it was a no-brainer. I used the negative space between the trees to trick the eye into seeing more than just the four represented, yet it keeps the focus on the more important elements. It's an interesting graphic device and a nice way of keeping the poster uncluttered.
Also, because Klown is being distributed by Drafthouse Pictures, they sponsored a very special Roadshow screening of the film last month and we're delighted to premiere the video of that experience. It gives a great idea of the kind of raunchy madness Klown is all about.
Again, Klown is being released in New York, Los Angeles, Austin as well as Video on Demand this Friday, July 27. Check it out. You won't be disappointed.
Here's the official plot description:
In what critics are hailing as "the funniest movie of the year!" (IFC), KLOWN follows two wildly inappropriate friends — played by celebrated international comedians Frank Hvam and Casper Christensen — as they run amok through the Danish countryside, plowing through endless awkward confrontations and unspeakable debaucheries. Hopelessly wrongheaded Frank "kidnaps" the 12-year-old nephew of his pregnant girlfriend in an eager attempt to prove his fatherhood potential, and they join sex-crazed Casper on his secret adulterous weekend canoe trip. Rampaging through exclusive brothels, hospitalizations, armed robberies and even prison, the three paddle downstream from one chaotic misadventure to the next, all culminating in a surprisingly sentimental portrait of friendship and a final shocking reveal that you'll never be able to unsee.