'The Master' Theatrical Trailer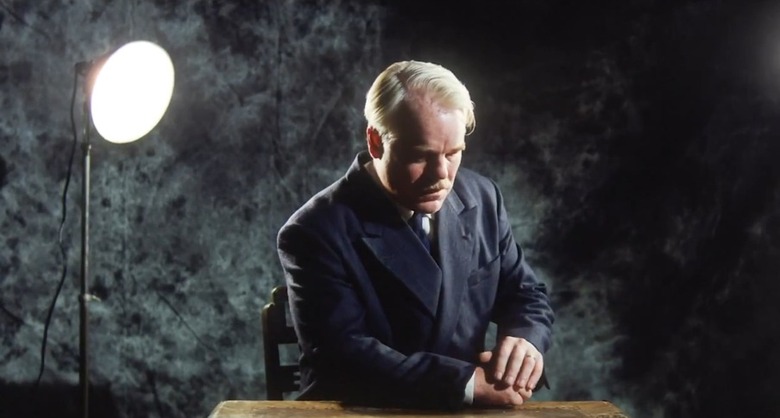 The first teasers for Paul Thomas Anderson's The Master were just that — teasers. They offered tantalizing glimpses of the two main leads, religious leader Lancaster Dodd (Philip Seymour Hoffman) and his acolyte Freddie Sutton (Joaquin Phoenix), but little more than that. And as fantastic as they were, it was only a matter of time before the studio released a more conventional trailer for theatrical release.
Fortunately for us, the first full-length trailer offers a better idea of the plot and general set-up without sacrificing too much of the unsettling moodiness that made the first teasers so striking. Plus, it offers much better looks at some of the other talents that fill out the cast, including Amy Adams as Dodd's wife and Jesse Plemons as his son. Check it out after the jump.
The Master is Anderson's first film since 2007's There Will Be Blood, and what a return it looks like. Even with less of that percussive Jonny Greenwood score, there's a pervading sense of something horrible just waiting to happen. It also marks something of a comeback for Phoenix, who hasn't appeared in a feature since his weird I'm Still Here stunt in 2010.
Though the title refers to Hoffman's Dodd, a L. Ron Hubbard-like figure, the marketing so far suggests that it's really Phoenix's Freddie that's at the center of things. After the horrors of World War II, charismatic drifter Freddie finds himself drawn to Dodd and becomes his right-hand man as Dodd spreads the gospel of his new (and suspiciously Scientology-esque) religion. But as the new belief system catches on and Dodd grows in religion, Freddie begins to question what he's helped build.
The Master opens October 12, which puts it just before the thick of awards season — but I expect it'll prove a serious contender anyway.