More 'Skyfall' Images And A New Video Blog Featuring The Aston Martin DB5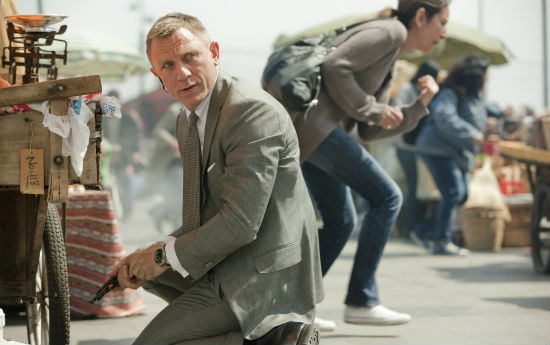 With tomorrow's release of The Dark Knight Rises, the sun has begun to set on the summer movie season. Meanwhile, it's rising on some of the biggest movies of the fall, including the latest James Bond film, Skyfall, directed by Sam Mendes and starring Daniel Craig, Javier Bardem, Ralph Fiennes, Naomie Harris, Bérénice Marlohe, Ben Whishaw, Helen McCrory, Rory Kinear, Albert Finney and Judi Dench.
A new IMAX trailer will be attached to the Batman film this weekend, which you can read about here, but if you simply can't wait for that, several new images have come online along with a new video blog detailing the return of what producers call the signature James Bond car of all time: The Aston Martin DB5.  Check it out below.
Here's the video blog about the DB5, which offers the following intriguing quote from director Sam Mendes:
There's something about the last part of the movie which deliberately, very consciously, could have taken part in 1962.
Now for the pictures, which come from Kinopoisk.ru.
The exact plot of Skyfall is still being kept mostly under wraps. According to Russ, the new trailer has a bit with M (Judi Dench) saying the true identities of all the Double O agents has been lost, which tangentially ties into this super vague plot description:
Daniel Craig is back as Ian Fleming's James Bond 007 in Skyfall, the 23rd adventure in the longest-running film franchise of all time. In Skyfall, Bond's loyalty to M is tested as her past comes back to haunt her. As MI6 comes under attack, 007 must track down and destroy the threat, no matter how personal the cost.
One would assume the motorcycle photos above are both from the same action sequence and the kneeling shot is from another. We've seen glimpses of so many action scenes in this one, if there's any plot at all I'd be pretty impressed.
I'm definitely looking forward to Skyfall and these video teases have been fun. Do you agree?