TV Bits: 'Breaking Bad', 'Star Trek', 'Street Fighter', 'Pushing Daisies', 'Dexter', 'Hell On Wheels', 'Treme', Ronald D. Moore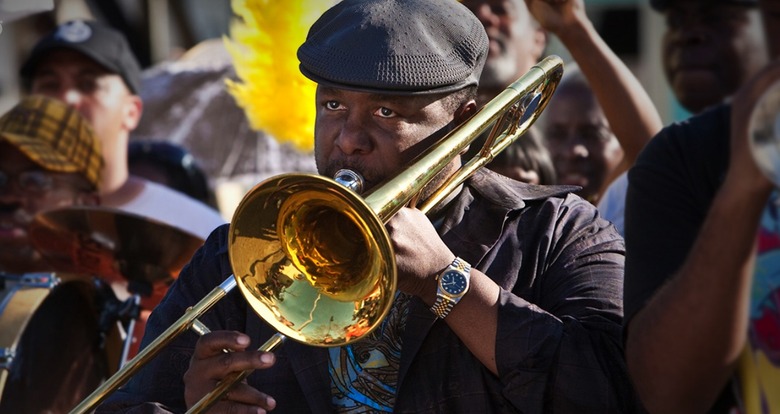 This past Sunday marked the start of Breaking Bad's fifth season, so it probably won't come as a surprise that two of today's Bits have to do with trivia surrounding the AMC drug drama. But there's plenty of other goodies in here for non-BB watchers as well. After the jump:
BSG's Ronald D. Moore will adapt the fantasy series Outlander for television
Roberto Orci offers a minor update on a possible Star Trek series... or two
Street Fighter heads to the small screen with Street Fighter: Assassin's Fist
Bryan Fuller's brilliant-but-cancelled Pushing Daisies eyes a Broadway run
Dexter hires a Heroes alum to swing by Miami and snoop around for a few eps
AMC's Hell on Wheels and HBO's Treme drop trailers for their upcoming seasons
This video is extra-disturbing when you recall that not only was Fring a ruthless drug kingpin in his secret life, his cover story was that he was the manager of a fried-chicken chain. Big Bird may never know how narrowly he escaped either getting roped into the drug biz or tossed into the fryer. [Buzzfeed via Vulture]
Bryan Cranston plays Breaking Bad protag Walter White with such fine-tuned precision that it's all but impossible to imagine the character ever being played by anyone else. But let's not forget that back when creator Vince Gilligan was initially casting for the part, Cranston was still best known as the hapless dad from Malcolm in the Middle. In that light, it seems slightly less insane that the network ever argued against him.
THR reveals that AMC initially balked at Gilligan's choice, and suggested he go with a higher-profile movie star like John Cusack or Matthew Broderick. Again, I can see how that may have made sense to them at the time — but I think I speak for all current BB fans, AMC execs included, when I say thank God Gilligan ultimately got his way. [via Vulture]
Battlestar Galactica creator Ronald D. Moore is headed back to television. No, it's not for another sci-fi spinoff — instead, Moore has just closed a deal to write Outlander, an adaptation of Diana Gabaldon's time-traveling romance/adventure books.
The bestselling series, an eighth installment of which will be released next year, begins in 1945 Scotland with a World War II combat nurse named Claire. She's somehow launched back in time to 1743, where she gets swept up in a battle between the Scots and the English. Though she's married in the 20th century to a history professor named Frank, she's forced to marry a young 18th century warrior named Jamie, and subsequently finds herself torn between the two men.
It's a very far cry from the spaceships that Moore worked with on Battlestar Galactica and Star Trek, and even from the Dust Bowl setting of Carnivàle, but I'll be keeping an eye on this one to see what he does with that premise. [Deadline]
And speaking of outer space: TrekMovie.com got a chance to speak with Roberto Orci about the possibility of a Star Trek's return to television. Long story short, don't expect anything to hit the small screen until after J.J. Abrams' Star Trek 2 hits theaters next year — but beyond that, feel free to remain cautiously optimistic.
Asked by the site if the talks regarding either a live-action or animated Trek show were real, Orci responded, "They are almost real. The relevant parties haven't sat down in a room together, but they have sent messages through intermediaries." Orci later continued, "Through our agents it has been raised as a question at CBS and as a possibility with the people who are in charge of Trek. So we are thinking about it to see if there is an opportunity there." Head to their site to read the rest of the interview.
At least one Street Fighter character will be making a cinematic appearance in Disney's Wreck-It Ralph later this year, but the rest of them are likelier to be seen on the small screen next. Jo Blo reports that there's a new live-action series called Street Fighter: Assassin's Fist in the works, created by the same guy (Joey Ansah) who put together the Street Fighter: Legacy short that made the rounds a couple years back. Here's the synopsis for Assassin's Fist:
This thrilling, multi layered series will take the audience back to the formative years of the iconic characters, Ryu and Ken, as they live a traditional warrior's life in secluded Japan. The boys are, unknowingly, the last practitioners of the ancient fighting style known as 'Ansatsuken' (Assassin's Fist). The series follows them as they learn about the mysterious past of their Master, Gouken, and the tragic and dark legacy of the Ansatsuken style. Can their destiny be changed...or will history repeat itself?
No word yet on when the show will actually air, but you can be sure we'll be keeping an eye out for updates.
Eager as I am to check out Bryan Fuller's new series Mockingbird Lane and Hannibal, a part of me still wishes we were getting the return of his older show Pushing Daisies. Turns out, we kind of are. Maybe. Fuller hinted in a conversation with TV Line that the supernatural fantasy could be headed to Great White Way, and yes, of course they're hoping to work in the show's shining Broadway star Kristin Chenoweth.
"We're working on something that is definitely a Pushing Daisies revival, and the idea would be to have as many cast [members] as we can to participate in it," he told the site. The project's still in its very early stages, and we don't have the slightest inkling of what it might look like, but I'm still pretty confident in saying: Yes, please!
As cameras continue to roll on Dexter's seventh season, the series is adding yet another familiar face to its guest-star roster. Santiago Cabrera, whom you may remember as future-painter Isaac Méndez on Heroes, is set to appear in "a couple" episodes as Ethan Prince. Like Isaac, Ethan happens to be a creative type — in this case, he's the "charming" writer of true crime novels who comes to Miami to research a famous case.
Cabrera is just one of several new Dexter guest stars, along with Yvonne Strahovski, Ray Stevenson, and more. Dexter will return to Showtime on September 30. [EW]
AMC's Hell on Wheels will be back for a second season next month, and we've got an intense 30-second promo for you right here:
Hell on Wheels returns Sunday, August 12. [EW]
Treme fans, your patience is finally, at long last, about to pay off. Over a year since it went off the air, the HBO series is set to return this fall for its third season. Check out a full trailer below:
Mark your calendars for Sunday, September 23. [THR]