More 'Hunger Games: Catching Fire' Casting: Sam Claflin, Melissa Leo And Tony Shalhoub Up For Major Roles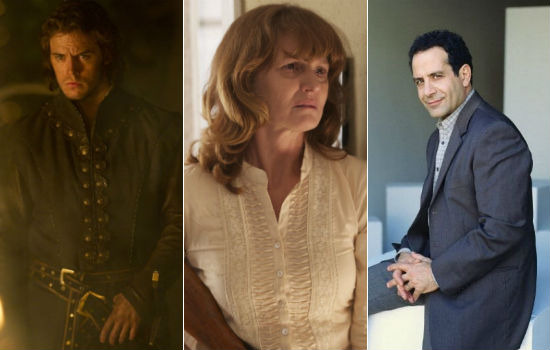 Things are super busy in Panem this week. Earlier today, Amanda Plummer was officially cast in The Hunger Games: Catching Fire and Lionsgate let it slip that both halves of the third film, The Hunger Games: Mockingjay, are moving so fast, they're already looking for new directors as Francis Lawrence won't have time to do it.
Now Variety says the first sequel has three major actors close to filling three major roles with filming scheduled to begin in a few months. Sam Claflin, last seen in Snow White and the Huntsman, is up for the highly coveted role of Finnick Odair, Oscar winner Melissa Leo is up for the role of Mags and Tony Shalhoub is on the list for Beetee. Read about each of the roles and more after the jump.
Variety reported this news and says that while offers may or may not be out, each of these actors is at least on director Francis Lawrence's short list, if not at the very top.
As reported several times in the past, the role of Finnick Odair is by far the most coveted and flashy in Catching Fire. Odair is a popular former winner of the Games who forms a reluctant relationship with Katniss and Peeta in the latest edition of the games. Claflin already has two fantasy roles under his belt, Snow White and the Huntsman and Pirates of the Caribbean: On Stranger Tides, so he's no stranger to big films like this. Howeverr, Odair is an Edward Cullen type major role so Lionsgate is obviously being very careful.
Much as Haymitch (Woody Harrelson) was a former winner who mentored Katniss, Mags is the mentor for Odair who volunteers herself to join him as the representation of their District to save Finnick's love. Leo is well-known for taking all kinds of roles – big, small, Hollywood, indie – based on the role and the script. I can see her considering this for sure if it's good enough. She'd be great.
Finally, Beetee is another former winner, an inventor, who makes a few things in the arena that make life better for the Tributes. Tony Shalhoub is great in these kind of quirky, important but small roles so it sounds solid.
Again, these are just the actors who are close to maybe being cast, nothing is definite. But Variety must have been very confident to run a story.
What do you think of these bits of casting?