Anthony Mackie To Play Falcon In 'Captain America: The Winter Soldier'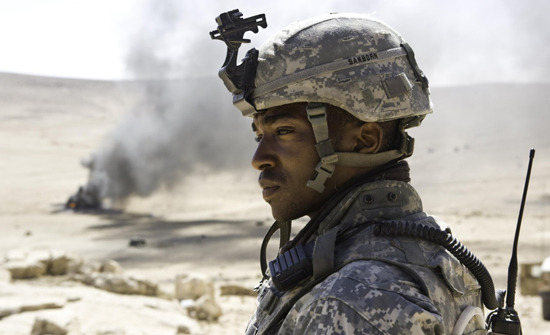 UPDATE: Sebastian Stan is confirmed to return as Bucky in the film.
For Marvel fans, the last few days have been head-spinning. New titles for the Thor and Captain America sequels, the official announcement of Guardians of the Galaxy, Ant-Man test footage, Iron Man 3 details including Ben Kingsley as the Mandarin, the list goes on and on. They're now adding to the madness as Anthony Mackie is in talks to join Joe and Anthony Russo's Captain America: The Winter Solider, possibly playing a superhero named Falcon. Read more after the jump.
The Hollywood Reporter broke the news of Mackie's likely involvement in the film, which is scheduled for a April 4, 2014 release.
The newly revealed title all but confirms that Bucky (Sebastian Stan), will return as The Winter Solider. He's Russia's answer to Captain America, a super soldier brainwashed by the Russians when he's discovered all but dead. Somehow, one would image Captain America would learn of this person in some post-Avengers way and have a battle with his former friend.
Falcon, the character Mackie is believed to be up for though Marvel wouldn't comment, is a New York based, African American superhero named Sam Wilson. In the comics, he's regularly teamed up with Cap, and even flirted with joining The Avengers. The character has also had story lines dealing with S.H.I.E.L.D, the Cosmic Cube and even played a key role in comic book storyline that saw Bucky become the new Captain America. With this character now in the mix, there are a ton of different directions that not only this film can go, but Avengers 2 and a third Captain America film as well.
How do you think Falcon will fit into Captain America: The Winter Soldier? Is Mackie the right man for the job?