Dwayne Johnson Tweets That He's In Talks For 'Lobo'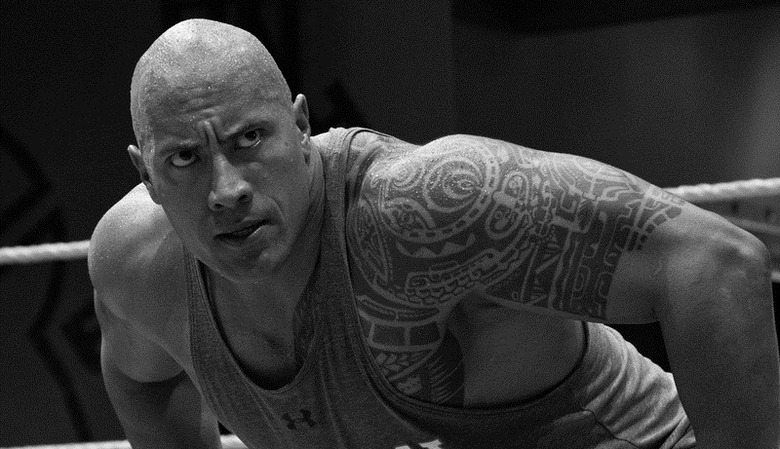 DC Entertainment has got some catching up to do if it wants to catch up with Marvel Studios' slate of superhero movies, but they're trying their best to rise to the challenge. Although Zack Snyder's Man of Steel is the only DC movie due out in the next three years, Warner Bros. has a slew of other comic book adaptations in various states of development at the moment, among them the long-simmering Lobo adaptation.
The project's been kicking around for a few years, and at one point had Guy Ritchie attached to helm. He eventually moved on, though, and this past spring Brad Peyton was announced to rewrite and direct. Now he's trying to get his charismatic Journey 2: The Mysterious Island star Dwayne Johnson to help him bring the story to life. More after the jump.
Lobo isn't quite as well known as some of his DC brethren, but the "grizzled, violent, foul-mouthed intergalactic mercenary/bounty hunter," as Russ put it, has his own devoted fan following. First introduced in the '80s as a villain, he was reinvented as an anti-hero in the '90s. Lobo was intended as a sort of parody of the super-violent, super-tough, super-serious costumed heroes that were popular at the time.
If the movie adaptation keeps that strain of the character, Lobo could be a welcome blast of cold, fresh air for the comic book genre. The choice of Peyton as director isn't an encouraging sign (though one never knows), but whatever direction they decide to go in, Johnson himself could be a solid lead.
Johnson certainly looks the part and has a proven background in action movies, and he could have the charm and humor to make the character shine. Plus, he seems to be go-to guy for franchises in need of revitalizing — he helped turn Fast Five and Journey 2 into box office hits, and Paramount hopes he'll work his magic on G.I. Joe: Retaliation when it finally comes out next year. Perhaps he'll do the same for Warner Bros. / DC's stable of comic book stars.