Joss Whedon Discusses 'Much Ado About Nothing', 'Dr. Horrible 2', And His Possible Future At Marvel [Comic-Con 2012]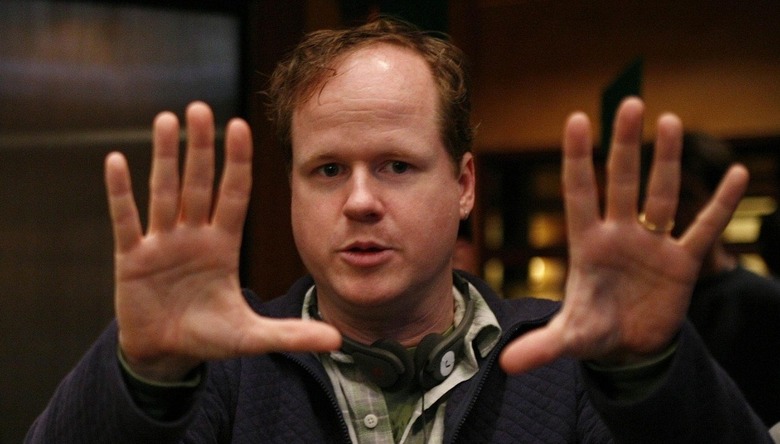 All-star geek Joss Whedon took over Ballroom 20 at San Diego Comic-Con on Friday to thunderous applause, and although he confessed that he hadn't properly prepared for the panel, it did little to dampen his fans' enthusiasm. Whedon took the mic alone at the front of the room, and for an hour fielded questions from an appreciative audience. After the jump, get his updates on Much Ado About Nothing, Dr. Horrible 2, and his possible future with Marvel Studios.
If Whedon looked a bit tired when he came onstage, he had good reason to be — as he explained to us, he'd just finished post-production on Much Ado. The filmmaker then revealed that he'd done something on Much Ado that he'd never done before. "I wrote the score," he said. He called the experience "terrifying," but added that "when I'm terrified, I know I'm having fun."
As for why he'd been attracted him to the classic William Shakespeare tale in the first place, Whedon noted, "It's kind of a dark movie":
There's a lot of lying and ultimately, there's a real deconstruction of our notions of how love is supposed to operate and how courtship is supposed to operate. [Shakespeare] looks at it with a very cold eye, and manages to find redemptive romance in it anyway.
Though no release date has been announced at this time, Whedon told us that they were submitting Much Ado and trying to get it into theaters. "And if that doesn't work, check iTunes," he said.
Dr. Horrible's Sing-Along Blog 2
Whedon also offered a minor but welcome updated on the long-awaited sequel to Dr. Horrible's Sing-Along Blog. "It's going to start happening sometime, possibly in the spring," he said, revealing that he'd recently gotten together with the other writers to discuss it. "We've been working on it over the years."
"We've got a bunch of songs that we know exactly where they're going,. I can't wait to tell you about it, but I'm not going to do it now," he teased. In the meantime, Dr. Horrible diehards will be able to revisit the miniseries on television for the first time ever, thanks to The CW.
Marvel Studios
And, of course, he was asked about the possibility of more Marvel movies in his future. "I really care about those characters, they speak to me," he said, acknowledging that another collaboration with the studio could happen. However, he seemed eager to take a break from the franchise for the present, saying it was difficult for him to do too many projects in a row that he "didn't originate."