'The World's End' Teaser Poster: Edgar Wright And Simon Pegg Go Bar Hopping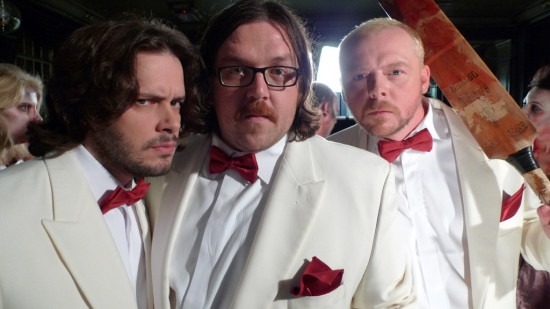 The first tease of the spiritual sequel to Shaun of the Dead and Hot Fuzz is now online. Universal just officially green-lit The World's End, the Edgar Wright directed, Simon Pegg co-written and starring, Nick Frost co-starring third film in the Cornetta trilogy and released a teaser poster along with the announcement. After the jump, check out the poster for Wright and Pegg's latest and read all about it.
Here's the teaser poster for The World's End, followed by the press release.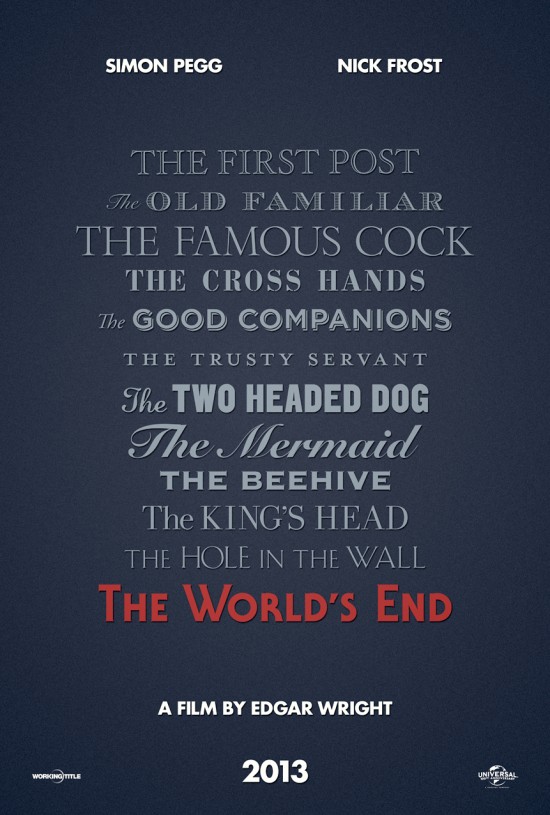 Universal Pictures has officially greenlit the third film in director Edgar Wright's trilogy of comedies.  The final installment, entitled The World's End, will follow the success of 2004's Shaun of the Dead and 2007's Hot Fuzz.  Wright is currently in pre-production on the film, which will begin shooting this October in the U.K.  Simon Pegg, who co-wrote the script with Wright, will join forces once again with Nick Frost to star.  Working Title's Eric Fellner and Tim Bevan will produce with Nira Park of Big Talk Pictures.  The official teaser poster for the movie was released today at Comic-Con.
As with the first two movies in the trilogy, Focus Features will distribute The World's End domestically and Universal Pictures will handle international distribution.
About The World's End
20 years after attempting an epic pub crawl, five childhood friends reunite when one of them becomes hellbent on trying the drinking marathon again.  They are convinced to stage an encore by mate Gary King, a 40-year old man trapped at the cigarette end of his teens, who drags his reluctant pals to their hometown and once again attempts to reach the fabled pub – The World's End.  As they attempt to reconcile the past and present, they realize the real struggle is for the future, not just theirs but humankind's.  Reaching The World's End is the least of their worries.