TV Bits: 'Breaking Bad', 'Legned Of Korra', 'Falling Skies', 'Firefly', 'Homeland', 'Dexter', 'Arrested Development'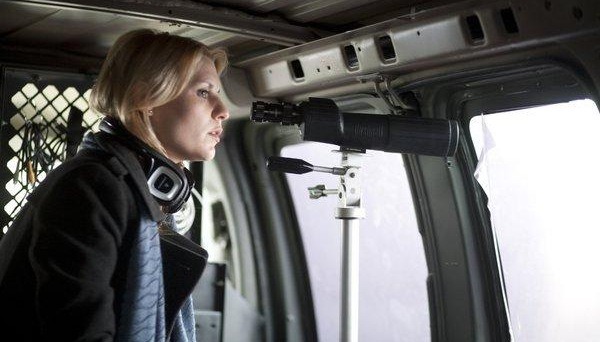 There's a ton of TV tidbits to plow through today, some of it Con-related and some of it not. After the jump:
Breaking Bad's Vince Gilligan suggests a Saul Goodman spinoff
Nickelodeon orders a second season of The Legend of Korra
TNT picks up Falling Skies for a third season
Science Channel will shoot a Firefly reunion special at Comic-Con
Homeland's second season will head to the Middle East
Watch the first two minutes of Dexter's seventh season
Ron Howard tweets from the writers room of Arrested Development
Bryan Cranston suggested recently that a Breaking Bad movie sequel was "not far-fetched," but it seems creator Vince Gilligan doesn't feel the same way. "God bless him for his enthusiasm," said Gilligan. "But I don't know how to do that at this point. I learned a long time ago to never say never, but I am working really hard to wrap up this story in these final 16 episodes."
That doesn't mean Breaking Bad's world necessarily has to end when the show does, though. Gilligan floated the idea of a spinoff, centered on Walter White's oily lawyer Saul Goodman (Bob Odenkirk). "I would love to see a Saul Goodman spin-off show when it's all said and done," he said. "I think that would present itself pretty nicely, storywise. While Breaking Bad is by design a show that is finite and limited in its scope — it's a story of transformation that cannot go on forever — I think a Saul Goodman show could have great legs. I love the idea of a lawyer who will do anything to avoid going to court. He's always going to settle on the courthouse steps."
Not that that means Saul's safe for the rest of the season. "No viewer should breathe a sigh of relief that Saul won't expire by the end of Breaking Bad," he said, noting that the spinoff was just an idea at this point and that writers were still at work on the second half of the final season. The first half of Breaking Bad's fifth and last season will kick off this Sunday on AMC. [EW]
The Legend of Korra fans, rejoice. Nickelodeon has ordered a second season of the animated Avatar: The Last Airbender sequel, which debuted this April. The first part of the first season, Book 1, concluded in June; the second half, Book 2, will air in 2013. Season 2 will consist of 26 episodes comprising Books 3 and 4. [EW]
Also gearing up for a return is TNT's Falling Skies, which has just been picked up for a third season. The news comes just weeks after the start of the sci-fi drama's second season, which premiered in June. [Variety]
Those lucky enough to be at Comic-Con will be able to witness a Firefly mini-reunion at the panel today, but those who couldn't get tickets will get their chance to see it as well. They'll just have to wait a few more months. EW reports that the Science Channel will shoot a one-hour special titled Browncoats Unite at Comic-Con, in honor of the show's 10th anniversary. The special will include footage from the panel as well as a behind-the-scenes roundtable interview with the stars.
Scheduled for Friday at 12:30 PM, the Comic-Con panel will be attended by actors Nathan Fillion, Alan Tudyk, Summer Glau, Adam Baldwin, and Sean Maher, showrunner Tim Minear, Jose Molina, and creator Joss Whedon. The special is scheduled to air on the Science Channel on Sunday, November 11, along with a Firefly marathon.
Homeland's upcoming second season won't pick up where the first left off, at least not geographically. Instead, "the first two episodes were shot in Israel," revealed executive producer Howard Gordon during a Comic-Con panel. Gordon also debuted a new trailer for the season. Since I wasn't there, I'll leave it to Deadline to describe the footage (spoilers for both the past season and the new one follow):
The trailer showed Claire Danes' Carrie Mathison character in a teaching position and no longer an active CIA agent after her bipolar breakdown at the end of last season. The trailer also showed, among character talk of an Israeli attack on Iran and a street machine gun firefight, former captive Marine and closet Muslim Nicholas Brody now elected to the U.S. House of Representatives, The Brody character, played by Damian Lewis, is now also one of the closest advisors to the Vice-President he almost killed in an terrorist attack in season one.
Homeland returns to Showtime on September 30.
Also at Comic-Con, Showtime fans were treated to a two-minute sneak peek of the seventh season of Dexter. While months will have passed since the Season 6 finale in real time, only seconds have passed in Dexter time — we dive right in with (spoiler!) Deb (Jennifer Carpenter) catching her serial killer brother (Michael C. Hall) red-handed. Watch it below:
Say what you will about the show's decline in quality over the seasons, that's still one intense scene. Head to TV Line for highlights from the accompanying Comic-Con panel, though be warned that still more spoilers for the last season and the next one abound. Dexter kicks off on September 30.
I have to admit, even after Netflix stepped up to distribute new episodes of Arrested Development, a part of me still couldn't quite believe it. But it is indeed happening, and soon. "All systems are go. Filming for the new episodes starts in four weeks. Woo!" tweeted star Jason Bateman.
Executive producer Ron Howard even provided photographic evidence, posting via Twitter a photo of himself, Bateman, and creator Mitch Hurwitz in the writers room. "Arrested Development for Netflix. IT'S ALIVE," wrote Howard.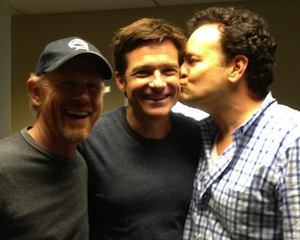 Adorable. Arrested Development will hit Netflix in 2013. [TV Line]