Stephenie Meyer And Director Andrew Niccol Preview 'The Host' Footage [Comic-Con 2012]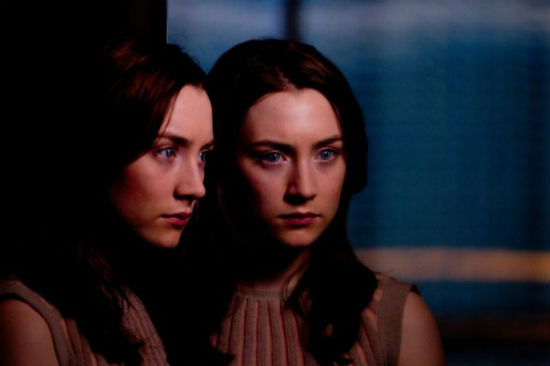 The first full day of the San Diego Comic Con found the giant Hall H occupied by nearly the entire cast of The Twilight Saga: Breaking Dawn Part II, with Twilight author Stephenie Meyer showing up as well. But after the Twilight panel finished up, Meyer came back out to the stage to introduce a few minutes from The Host, which is the Andrew Niccol-scripted and directed adaptation of Meyer's sci-fi novel of the same name.
The book follows a teen girl named Melanie Stryder, who is initially one of the few humans to escape possession by an alien race. But she is eventually "occupied" by a symbiotic alien named Wanderer, and the story kicks into gear as Melanie and Wanderer fight for dominance within the girl's mind, as human and alien-controlled factions have their own raging conflict.
A few minutes of footage was unspooled, seemingly from the first and second acts of the movie, and we'll run down the details below.
After taking the stage, Niccol, director of Gattaca and In Time, said that while The Host isn't slated for release until next March, and shooting only recently finished, they wanted to present a sneak peek now, "even though it's far from done." He  said these were rough scenes.
The footage began with Saoirse Ronan, playing Melanie, being chased up the stairwell of a building by people in white smocks, including The Seeker, played by Diane Kruger. Reaching a landing, she jumps out a window. The next shot sees her waking up some manner of examining table, with the Seeker and Healer Fords (Marcus Lyle Brown) in the room. In all their eyes is a strange blue ring, displaying that each is possessed by an alien presence. What shall I call you, Stryder is asked. "Call me... Wanderer," she says.
The interiors are very Niccol — spare, with stone and silver surfaces. When we see vehicles, the alien forces are all driving excessively silvered cars and helicopters, and the costumes of the possessed humans also resemble previous sci-fi visions from Niccol.
In the conversation that ensues between Wanderer, the Seeker, and Healer Fords, we learn that while almost every human has been successfully occupied, there are still human pockets of resistance. The Seeker wants Wanderer to go through Melanie's memories, to locate other rebels.
As we see shots that represent Melanie's memories, we learn that she is from Louisiana, and that her family escaped initial colonization. There are pastoral, gently blurry memories of Louisiana life, but white-smocked people and silver cars come to find the humans, and Melanie's father kills himself with a pistol rather than being taken by the Seekers. We also see some Nicholas Sparks-like romance, as Melanie and a hot dude are making out in the rain, which clearly leads into the romantic aspect of the film's storyline, where Wanderer is affected by Melanie's human emotions.
As Wanderer is narrating some of the details from the memory stream, we start to hear Melanie's voice yelling for the alien to stop giving up information. Clearly there's a struggle within Melanie's mind, but Wanderer and Melanie speaking in mental voice over is going to be a difficult thing to take seriously throughout the film. In these few shots it didn't come off very well, but perhaps Niccol is going to do something clever with the audio mix that will make that internal dialogue sound a bit more natural. This was a rough edit, after all.
Other footage shows Mel wandering into the desert to escape the "occupied" humans, where her Uncle Jeb (William Hurt) has established a network of tunnels and caves inhabited by a few humans that have escaped occupation. There's conflict there, too, as Jeb is more willing to accept the occupied Mel than everyone else seems to be.
In all, the footage from The Host definitely looks like an Andrew Niccol film, though a few things (the voice over, and the makeout in the rain) feel a bit outside his usual tactics. This all looks like stronger, better-shot material than In Time was, and Ronan is such a convincing screen presence that she might be able to overcome some of Stephenie Meyer's cheese in a way that the cast of Twilight never quite could.
We'll present a trailer for The Host when it becomes available, but at this point we don't have any timeline for a likely release.