Alex Proyas To Script And Direct Hellboy Creator's 'Joe Golem And The Drowning City'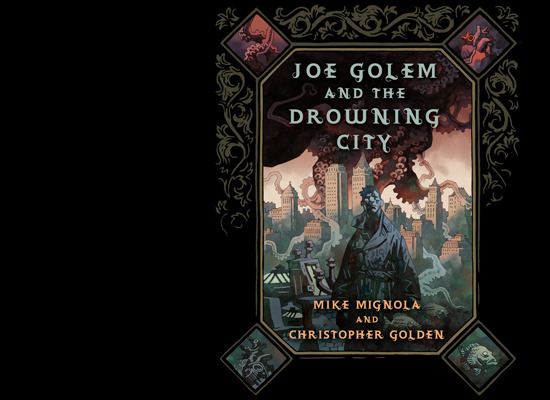 We may receive a commission on purchases made from links.
The last Alex Proyas film, Paradise Lost, came apart at the seams before it really got moving, thanks to budget issues that made the production unfeasible in the eyes of the Legendary Pictures and Warner Bros. beancounters, and technological hurdles that got in the way of realizing the film's ambitious sci-fi vision of battles in Heaven.
But Proyas now has another film project coming together, and it is one that also lives in the realm of the fantastic. The property is Joe Golem And The Drowning City, a graphic novel by Hellboy creator Mike Mignola, and Christopher Golden.
The graphic novel follows "an orphaned teenage girl, an aging magician, a lunatic scientist, a Victorian occult detective, and the stalwart sidekick, Joe Golem—a man whose strange dreams hint of a history he has forgotten–as they struggle for the fate of an alternate 1970s lower Manhattan." So that sounds pretty alright.
Deadline says that Proyas will script and direct the film, and that like Paradise Lost the film will shoot in Australia.
And lest you wonder about the practical problems of creating Manhattan in Australia, this story's version of the island is very different from the one we know. Mignola and Golden imagined an alternate Manhattan, where a massive earthquake caused the lower half of the city to sink into the water, turning the affected area into something that resembles Venice.
Amazon describes the source novel like so:
In 1925, earthquakes and a rising sea level left Lower Manhattan submerged under more than thirty feet of water, so that its residents began to call it the Drowning City. Those unwilling to abandon their homes created a new life on streets turned to canals and in buildings whose first three stories were underwater. Fifty years have passed since then, and the Drowning City is full of scavengers and water rats, poor people trying to eke out an existence, and those too proud or stubborn to be defeated by circumstance.
Among them are fourteen-year-old Molly McHugh and her friend and employer, Felix Orlov. Once upon a time Orlov the Conjuror was a celebrated stage magician, but now he is an old man, a psychic medium, contacting the spirits of the departed for the grieving loved ones left behind. When a seance goes horribly wrong, Felix Orlov is abducted by strange men wearing gas masks and rubber suits, and Molly soon finds herself on the run.
Her flight will lead her into the company of a mysterious man, and his stalwart sidekick, Joe Golem, whose own past is a mystery to him, but who walks his own dreams as a man of stone and clay, brought to life for the sole purpose of hunting witches.
Proyas has also been linked to Gods of Egypt and The Unpleasant Profession of Jonathan Hoag. We don't know which film might really be his next. Constantin Film picked up the Joe Golem rights, which set this particular one in motion, but the timeframe the company envisions for the project is unclear.