Fund It: Charlie Kaufman's Stop-Motion 'Anomalisa', From 'Community' Creator Dan Harmon And Adult Swim Veteran Dino Stamatopoulos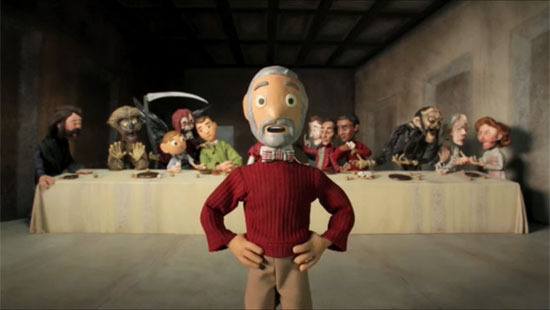 Some projects sound too good to be true. Lucky for us, we live in an age where they don't have to be.
Of course, such optimism does little to counter the realities of the modern film industry model, which is currently taking its toll on Charlie Kaufman's sophomore directorial effort Frank or Francis (currently stuck in development limbo), just as it did At the Mountains of Madness before it, and hundreds of other please-let-this-happen endeavors that failed to scrounge up the financing necessary to be brought to fruition.
But what of more budget-conscious efforts? With marketing and director Guillermo del Toro's proposed $150 million price tag, At the Mountains of Madness was looking at a cost of well over $200 million. Comparatively, getting Charlie Kaufman's latest screenplay produced requires a paltry 200 grand investment. And thanks to Kickstarter, you can contribute however much or little as you deem appropriate in order to help make this dream project a reality.
And what a dream project it is. Charlie Kaufman teaming up on a stop-motion film with Community creator Dan Harmon and Moral Orel & Mary Shelley's Frankenhole creator Dino Stamatopoulos? Even knowing nothing of the film's story (other than it being about "a man crippled by the mundanity of his life", which could describe any of Kaufman's films), the creative minds backing it are more than enough to induce a healthy dose of mental whiplash. On closer inspection though, the pairing makes a weird sort of sense. Despite each member of this off-kilter trifecta bringing with them their own niche brand of schizoid outlandishness, their worlds have clashed on more than one occasion.
Back during Season 2 of Community, Dan Harmon took the show's self-awareness to a whole new level, affectionately riffing on Charlie Kaufman's meta-on-meta nature with the making of a "Jesus movie for the post-post-modern world". Kaufman had no direct involvement though, so learning that the two of them are actually working together is an exciting development. Less surprising (but still exciting) is the involvement of Dino Stamatopoulos (better known by Community fans as Starburns), who served as a writer on Community and was especially helpful in facilitating its transition to the stop-motion medium with the show's Christmas special, entitled "Abed's Uncontrollable Christmas".
While Dino and Harmon will only be serving in an executive producer capacity on Anomalisa, Kaufman's script is probably in good hands, as Duke Johnson — director of "Abed's Uncontrollable Christmas", and frequent Dino Stamatopoulos collaborator — will be helming the 40-minute picture.
You can check out the video from their Kickstarter page below. (As if you really needed persuading.)
It's saddening to think about how many amazing films and TV shows we've lost out on thanks to understandably money-conscious studio/network executives prioritizing safe bets over creative ambition. Also saddening is the way many consumers have become ambivalent about doing anything to support an artistic industry that operates this way, turning instead to piracy to satiate their entertainment needs. It sure is easy to take the moral high ground when it entitles you to consume costly content freely and without remorse; less easy is maintaining that moral high ground by putting your money where your mouth is, supporting all attempts to break free from reliance on financing/distribution from major studios (aka the "Big Six"). With Anomalisa, we have an opportunity to do exactly that, and I for one hope you will join me in championing it.