/Film Will Be Covering San Diego Comic Con 2013, Meet-Up On Saturday Night
Please Note: This post will be Sticky'd to the top of /Film until Saturday night.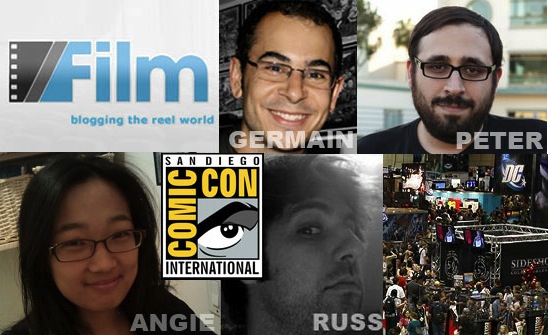 The /Film crew is gearing up for San Diego Comic Con 2013, which officially begins Thursday morning (but has a show floor preview night on Wednesday). Traveling to San Diego will be Russ Fischer, Germain Lussier, Angie Han, Christopher Stipp and myself – Peter Sciretta (Stipp are not covering the Con for /Film).
Coverage: We'll be covering all the interesting movie and tv events at the convention, so stay tuned to /Film for extensive coverage.
Meet-Up: Ever wanted to meet your favorite /Film writers in person? We'll be holding the fourth annual /Film Comic-Con Meetup on Saturday night at 10 PM at the Marriott Marina Hotel At The Marina Kitchen, left of the Marriott lobby and right off the escalator. The Marriott Marina is the hotel located next to the convention center on the right. It is a chill time to chat with fellow /Film readers, movie geeks, and meet some of the /Film crew. Please join us for a casual drink. The meet-up was moved to Friday as there is a conflicting screening scheduled during our usual post-Wednesday preview night timeslot. Our friends from FirstShowing and Screenrant will also be joining us as well, and you never know who else might also show up. Watch for updates on our twitter feeds (mine is @slashfilm).