'Elysium' Bugatti Spaceship Revealed [Comic-Con 2012]
Since making his feature debut with District 9, everyone has been waiting to see what Neill Blomkamp would do next. The buzz on District 9 started with a clever "For Humans Only" viral marketing campaign at Comic Con in 2008, and a year later climaxed with a sneak preview screening of the film with Blomkamp producer Peter Jackson in attendance. So its no shock that Blomkamp has returned to San Diego to promote his next film, Elysium.
As you know, Sony is set to present a first look at footage from the film in Hall H on Friday, with Blomkamp and stars Matt Damon and Jodie Foster on stage. We will have full coverage of this panel and much more as part of our Comic Con 2012 coverage.
Yesterday I ran into someone in Hollywood that had seen an early cut of the movie and claimed that not only was it better than Blade Runner but also featured one of Matt Damon's best performances — talk about high praise.  Last night we arrived in San Diego and noticed a spacecraft in front of the Hard Rock Hotel near the Gaslamp district entrance. Some were speculating that the craft might be from the upcoming Robocop reboot (probably due to the Robocop viral signage on the building behind it, but my sources have confirmed its our first look at a spacecraft from Elysium. See an image of the ship, after the jump.
Here is a photo of the spacecraft I took at 1:00am. As you can see, they are still working on constructing the display. I'm sure it will look much prettier by tomorrow night, especially with special lighting.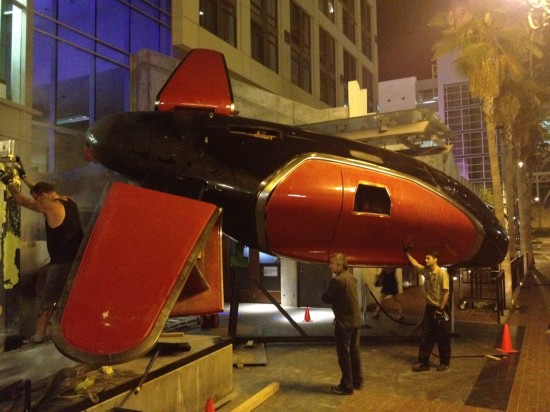 The front of the craft features the Bugatti logo, which some of you might recognize as a French automobile manufacture known for high-performance vehicles.
Elysium features Sharlto Copley, Wagner Moura, William Fichtner, Sonia Braga, and Diego Luna. It is due out on March 1, 2013. Here's the recently-released synopsis:
In the year 2159 two classes of people exist: the very wealthy who live on a pristine man-made space station called Elysium, and the rest, who live on an overpopulated, ruined Earth. Secretary Rhodes (Jodie Foster), a hard line government of?cial, will stop at nothing to enforce anti-immigration laws and preserve the luxurious lifestyle of the citizens of Elysium. That doesn't stop the people of Earth from trying to get in, by any means they can. When unlucky Max (Matt Damon) is backed into a corner, he agrees to take on a daunting mission that if successful will not only save his life, but could bring equality to these polarized worlds.