Biopic Casting Bits: Kevin Dunn, J.K. Simmons And More Join 'jOBS', Billy Campbell Boards 'Killing Lincoln'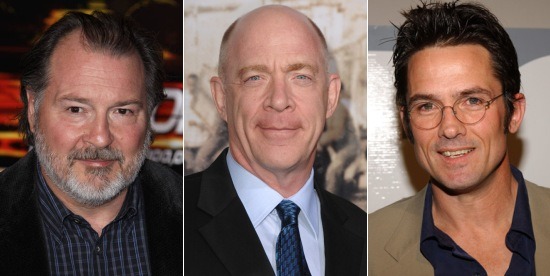 Cameras have been rolling on the indie Steve Jobs biopic jOBS for weeks now, but apparently there's still room for some last-minute additions. Kevin Dunn (Luck) had boarded the cast in the role of Apple CEO Gil Amelio, while J.K. Simmons will portray venture capitalist and Apple investor Arthur Rock. Other recently announced cast members include Elden Henson, who'll play Macintosh developer Andy Hertzfeld; Lenny Jacobson, who'll play Apple engineer Burrell Smith; Giles Matthey, who'll play iPod designer Jonathan Ive; and Victor Rasuk, who'll play early Apple employee Bill Fernandez.
Joshua Michael Stern (Swing Vote) is directing the film from a script by Matt Whiteley. Ashton Kutcher stars as the late Apple co-founder; the cast also includes Josh Gad as Steve Wozniak, Ahna O'Reilly as Jobs' girlfriend Chris-Ann Brennan, Matthew Modine, Lukas Haas, Dermot Mulroney, Lesley Ann Warren, and many more. As we've stressed before, this is a completely separate project from the Walter Isaacson-based, Aaron Sorkin-scripted biopic that Sony has brewing. jOBS is targeting a late 2012 release. [THR]
After the jump, The Killing actor Billy Campbell becomes the sixteenth President of the United States.
Campbell's previous credits also include The Rocketeer, Once and Again, Francis Ford Coppola's Dracula, and, most recently, the Matthew Lillard-directed indie Fat Kid Rules the World. Killing Lincoln will begin shooting this month in Richmond, VA. [Deadline]