More Comic-Con Poster Exclusives: Mondo Does 'Game Of Thrones,' Kevin Tong Does H.G. Wells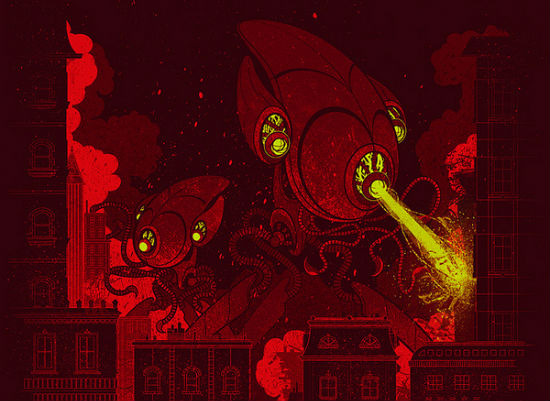 Movies aren't the only properties getting the limited edition poster treatment at San Diego Comic-Con this year. Literature is getting its due as well. Mondo is releasing a special three print "mini-series" of George R.R. Martin's Game of Thrones, though the focus is really on the HBO show. Then, talented artist Kevin Tong will be releasing stunning new prints based on the H.G. Wells works The War of the Worlds and The Time Machine. Check them all out and find out how and where to get them after the jump.
Wednesday, we'll have a huge article on the Mondo Booth at Comic-Con this year with some teases of what to expect, how it's going to work, if you'll be able to get them online and all that. But three of the mystery posters have now been revealed by
. They're Game of Thrones posters by Martin Ansin (24 x 36 inch, edition of 430, on sale Saturday), Daniel Danger (17 x 32 inch, edition of 380, on sale Friday) and Vania Zouravliov (24 x 33 inch, edition of 330, on sale Thursday). They'll be available at random times at the Mondo booth at Comic Con, which is number 437, and cost $50 each. All will be revealed by following
.
Those are the first three images. The last two are 18 x 24 inch screen prints, edition of 200, by Kevin Tong. Each will be available at his own personal booth, #504, $40 and $30 each.
Speaking with Justin Ishmael, the creative director of Mondo, he said these are the only three Game of Thrones posters Mondo has planned for the moment but, never say never:
It's a mini-series but you never know. I'll leave it at that. When we work with someone, we tend to keep a very positive relationship, so the door is kind of open to do stuff, I would hope thats the way with HBO.
For more information on Tong's pieces,
. He's even got a process video up there too.
Again, check back tomorrow for more info on Mondo's exclusive releases.