TV Bits: 'Dexter', 'Sons Of Anarchy', 'Bob's Burgers', 'Boardwalk Empire', 'Treme', Benedict Cumberbatch, And More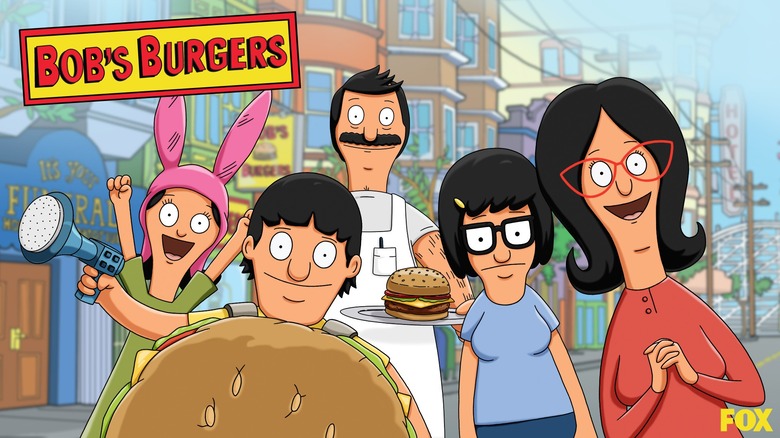 Today's TV Bits runs the gamut from serial killers and motorcycle gang leaders to Canadian pop songstresses. After the jump:
A new Dexter teaser reveals the serial killer's worst nightmare
FX dishes up a promisingly tragic new trailer for Sons of Anarchy
Bob's Burgers' new Comic-Con poster offers choking first aid tips
HBO sets return dates for Boardwalk Empire and Treme
Jay Roach teams up with Paul Giamatti for HBO's K Blows Top
Benedict Cumberbatch lands a double guest role on The Simpsons
Lost's Jorge Garcia could head to ABC's fairy tale drama Once Upon a Time
"Call Me Maybe" singer Carly Rae Jepsen heads to 90210
A little bit sexy, and a lot creepy. The new promo may not include actual scenes from Dexter, but it does a bang up (pun kinda intended) job setting the tone for the aftermath of Deb's big discovery. Dexter returns Sunday, September 30 at 9/8c. [via Cinema Blend]
In a shocking twist that no one saw coming, FX's new teaser for Sons of Anarchy reveals that in fact, the famous falling man from the Mad Men opening credits is none other than Jax Teller (Charlie Hunnam).
Kidding. I assume. Sons of Anarchy returns September 2012. [Vulture]
Bob's Burgers is headed to Comic-Con, and in preparation, the Fox series is showing fans how to deal with a choking victim Belcher-style.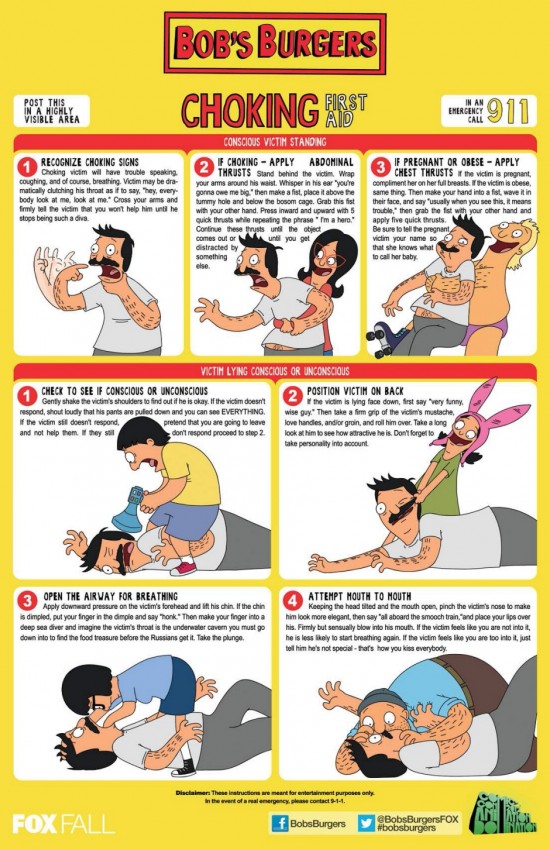 If you find it useful enough to want to post it in your own kitchen, you can pick up the poster for free at the Fox booth at Comic-Con. [Vulture]
HBO has just announced return dates for two of its critically acclaimed dramas. Boardwalk Empire is sticking with its usual mid-September slot, and will kick off its third-season on Sunday, September 16 at 9:00 PM. Meanwhile, Treme, which has been off air since last July, will have its long-awaited third season premiere on Sunday, September 23 at 10:00 PM. [TV Line]
Jay Roach, who previously directed HBO Films' Recount and Game Change, is heading back to the premium cable network with another truth-inspired political project. This time, however, he'll be going back a little further in time. Roach is attached to direct K Blows Top, a Cold War-era picture about Soviet leader Nikita Khrushchev's 13-day trip to the States during the height of the Cold War in 1959.
Roach seems to be attracting a top-notch cast as usual, with Paul Giamatti already on board to play Khrushchev. The script comes from Paul Bernbaum, who adapted it from Peter Carlson's book. The tome is subtitled "A Cold War Comic Interlude," so expect some laughs to go along with the history.
Let's close out this edition of TV Bits with a trio of small-screen casting quick hits...
Benedict Cumberbatch has had no shortage of high-profile movie projects lately, but it seems one role he's extra excited for is a small part on the small screen. Cumberbatch has just booked a dual guest role on the upcoming 24th season of Fox's The Simpsons, in the episode "Love is a Many-Splintered Thing." He'll be voicing both the British Prime Minister and "a snake-like character."
Cumberbatch reportedly stumbled into the role thanks to some fortuitous timing. The actor had arrived in the studio where The Simpsons' voice work is recorded for an unrelated meeting, when he heard that the series had an uncast guest role. "I said, 'I hate to muscle in here, guys, but could I record it?'" he told InStyle. "Next thing, I'm standing in a room with all those famous voices: Bart, Marge, Homer, Lisa." [TV Line]
With Alcatraz now cancelled, Jorge Garcia's looking for his next gig — and if former Lost producers Adam Horowitz and Edward Kitsis have their way, it could be on their new series Once Upon a Time. The pair revealed to TV Guide that they're looking to find a role for the beloved Lost actor, though a deal is far from sealed at this point. If Garcia makes his makes his way to the show, he'll be joining fellow Lost alums Alan Dale (who plays King George) and Emilie de Ravin (Belle).
Carly Rae Jepsen, the 26-year-old Canadian responsible for the most irritatingly/awesomely catchy song of the summer (even Colin Powell thinks so!), has parlayed her overnight fame into a guest role on The CW's 90210 as herself. The Season 5 premiere will see Jepsen performing an as-yet-undetermined track from her new album as part of a show in Las Vegas. [TV Line]