'Cyborg 009' Movie In Development And Comics Coming To America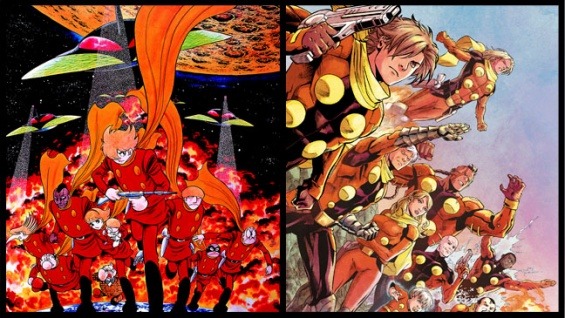 In Japan, Cyborg 009 is basically the X-Men, Fantastic Four or Avengers. The first and most famous superhero team in Japanese history was created by the late Shotaro Ishinomori and follows a group of people who are given special powers by a huge corporation and then rebel against them. A manga has been running in various forms in Japan since the Sixties and, despite a brief English translation in last decade, has never been specifically adapted for American audiences. That's about to change as Archaia Publishing has begun taking Ishinomori's original concept and updating it for modern, American audiences. The parent company is also developing the project as a film. Read more after the jump.
The Hollywood Reporter broke the news of this major update and conversion of the franchise and revealed the above artwork. Original look of the series on the left, new update on the right.
At Comic-Con this week, Archaia will premiere even more art from the new graphic novel with the aim at having it totally done next year. They've been carefully figuring out how to properly do the manga translation/update for the past six months while, in the meantime, F.J. DeSanto is producing the feature:
With the world in love with superheroes and superhero movies, the timing is perfect for a re-introduction of Ishinomori's creations. The book was created during the Cold War and its themes of teamwork and global co-operation still resonate in today's culture and climate. The book was clearly ahead of its time.
It sounds like Archaia has a valuable property with huge potential and they're going to handle very carefully. They want it to be globally massive, just like its American counterparts, but are doing it right. Taking their time. We won't see much movement on this after Comic-Con but I'm looking forward to hearing more about it. Do you agree?
More importantly, had you heard of Cyborg 009 before this article?