Dean Devlin And Roland Emmerich Are Working On 'Independence Day 2;' Want To Make 'Stargate' Sequels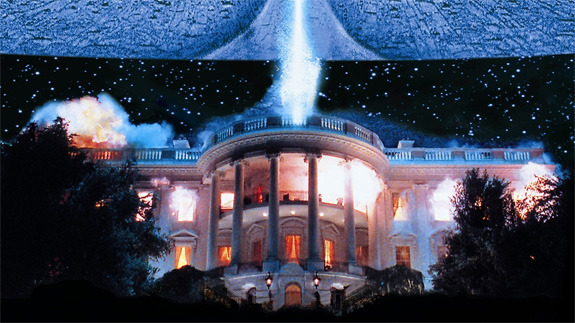 The producing/directing team behind Universal Soldier, Stargate and Independence Day, Dean Devlin and Roland Emmerich, are now officially back together and working on Independence Day 2. Devlin confirmed this in a new interview with The Hollywood Reporter and though there's no timetable on the release, discussions have begun with the returning cast members and the 2013 3D re-release of the first film will probably fit in somewhere. But wait, haven't we heard all this before?
Read his quote and more after the jump.
Here's Devlin's quote from The Hollywood Reporter:
I can tell you that Roland and I have been working together for the first time in 11 years and we're every excited about the idea of doing it. Whether or not we can make this happen, if we can get all the pieces to come together, that's gonna be challenging. But creatively, for the very first time since we did the original, I feel we have a worthy concept, a worthy path to go.
He continues:
We resisted doing the sequel for years because we still wanted to honor the first one. The first one gave us all careers and we really love that movie and loved the experience. We didn't want to make a movie because it was financially a good idea, we only wanted to do it when we had an idea and a concept that creatively felt like it honored the first one—that it felt like an organic sequel as opposed to 'let's just go make some more money. I feel like we got it. I think it took a long time, but I feel like we finally got something that really feels like, 'that's worth seeing as a sequel to Independence Day.'
A few weeks back, 20th Century Fox revealed they will be releasing a 3D version of Independence Day on July 3, 2013. The move was curious because it's not any major anniversary, but this might cast some illumination on the decision. Maybe they're just going to see how well audiences respond to the 1997 film before committing however many hundreds of millions of dollars towards it.
Devlin said that they're "beginning a long process of talking to everybody," in regards to casting. However, Emmerich has said he's talked to Will Smith about it a few times in the past. You'd have to think, despite quotes to the contrary, Smith is the piece that makes this movie work. That or a kick ass script.
In the same interview, Devlin said he and Emmerich always wanted to continue the story of Stargate and that it was conceived as a two/three movie story. He still thinks it's possible that could happen one day. Maybe if the duo – who haven't worked together in a decade – spark up the same chemistry that helped them make such big hits in the late Nineties, the two-thousand teens will once again be Emmerich/Devlin time.
Do you think Devlin is just giving the press lip service or are he and Emmerich actually sitting down working on this thing? Will we ever see it? Where do you think the 3D fits in?