Philip Seymour Hoffman Confirmed As Plutarch Heavenbee In 'The Hunger Games: Catching Fire'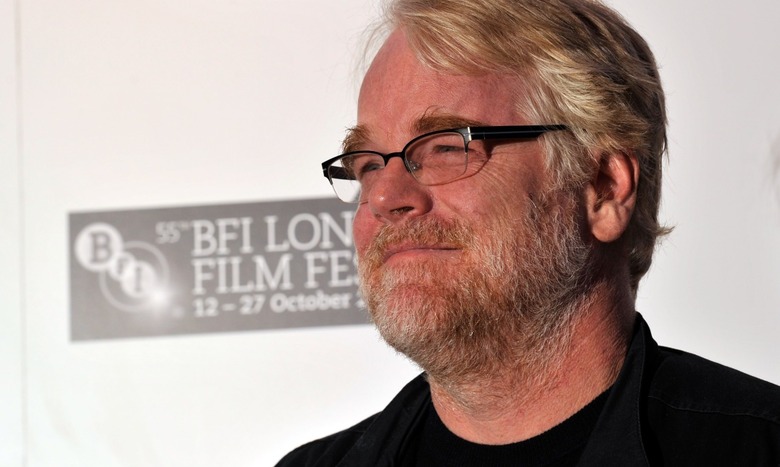 They should retitle it "casting fire," am I right? The Francis Lawrence-directed sequel The Hunger Games: Catching Fire just got some serious Oscar clout as Philip Seymour Hoffman has accepted the role of Head Gamemaker Plutarch Heavensbee, a role for which he was previously rumored. He joins the stellar returning cast, along with new addition Jena Malone, for the film which starts shooting this fall. Read more about the role and the film after the jump.
Lionsgate officially announced the casting on their Twitter feed, though the trades reported on the likely casting a month ago.
The rest of the article is filled with minor spoilers for Catching Fire, but nothing that you won't be able to tell from the first trailer, so it should be okay.
Heavensbee is more or less the same character Wes Bentley played in The Hunger Games, as he's the character who is control of the day to day of the 75th Hunger Games. That's the games the year after Katniss (Jennifer Lawrence) and Peeta (Josh Hutcherson) shared victory and the fact that the Games are even part of the film should give a pretty decent idea of where the movie goes. In the official Lionsgate statement, they too gloss over the obvious:
THE HUNGER GAMES: CATCHING FIRE begins as Katniss Everdeen has returned home safe after winning the 74th Annual Hunger Games along with fellow tribute Peeta Mellark. Winning means that they must turn around and leave their family and close friends, embarking on a "Victor's Tour" of the districts. Along the way Katniss senses that a rebellion is simmering, but the Capitol is still very much in control as President Snow prepares the 75th Annual Hunger Games (The Quarter Quell) – a competition that could change Panem forever.
If you read between the lines, or Suzanne Collins' book, it's pretty easy to surmise that Snow forces Katniss and Peeta to return to the Games just one year after winning. From there, though, things are very different indeed.
Director Gary Ross had no problem getting phenomenal actors for his film and Lawrence is looking fortunate too. With Johanna Mason and Heavensbee cast, the next major role is the one everyone is wondering about, Finnick Odair, another former Games winner forced to come back. Catching Fire is aimed at a November 22, 2013 release.
Do you think Hoffman will fit into this world?