4-D Coming Soon To A Theater Near You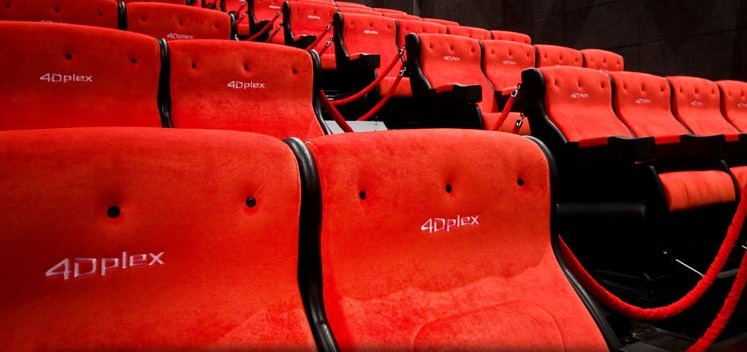 It wasn't too long ago that good 3D felt like cutting-edge technology, but apparently those three measly dimensions are no longer enough to impress the moviegoing public. At least, that's the thinking of the South Korean conglomerate CJ Group, which plans to bring its 4D system to our shores this year.
Whereas 2D and 3D movies rely mostly on sight and sound to draw audiences in, 4D is a more immersive sensory experience — imagine actually feeling the spray of the ocean or the shaking of an earthquake as characters experience them onscreen, or smelling the roses during the finale's grand romantic gesture.
The company, which operates Asia's biggest chain of movie theaters, has already set up some 29 specialty theaters in South Korea, Thailand, and Mexico, showing Hollywood hits like Avatar and Prometheus in 4D to sold-out crowds. But now they're looking to expand into Hollywood itself, with plans to install the 4D system in Los Angeles, New York, and other major American markets this year. More details after the jump.
No doubt they're helped by the premium ticket prices that accompany these plush theatergoing experiences — admission to a 4D screening will cost about $8 more than a normal 2D ticket. Still, Mexican chain Cinepolis attests that their customers love CJ's 4D system. "If you try to get a ticket on an opening night, tickets are sold out," observes Cinepolis brand director Luis Villavicencio. He says his 4D theaters do two to three times more business than an ordinary theater — music to the ears of Hollywood execs desperate to boost sagging attendance.
CJ isn't the first group to try and enhance movie-watching by involving the other senses, and it isn't the last. Canada's D-Box Technologies, for example, currently has about 100 locations in the U.S. with moving seats, and theme park attractions like Universal Studios' new Transformers: The Ride offer similar features. Over the decades, movie theaters have also installed buzzers, vibrating bass speakers, and Smell-O-Vision.
CJ's theaters will feature moving seats (up to 240 in each theater), giant fans, and strobe lights, along with nozzles that spray mist, water, bubbles, or even scents. Their catalog of odors includes about 1,000 different smells, and runs the gamut from "burning rubber" and "gunpowder" to "rose garden" and "coffee." It takes programmers about two to three weeks to add in the effects, using special software that can control how hard the fans blow or how violently the seats shake. "You don't want to sensory-overload the audience," says programmer Catherine Yi. "You have to know when to draw the line and when less is more."
Discuss: Would you watch a movie in 4D?