New 'Lawless' Trailer And Weapon Breakdown Infographic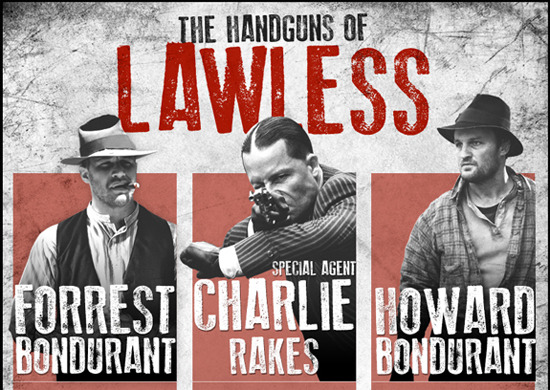 The Weinstein Company is banking on the popularity of The Dark Knight Rises to really elevate the public perception of Tom Hardy, and so now isn't such a bad time to release a new trailer showing off TWC's Hardy-starring film, Lawless. We've followed this one for quite some time, as John Hillcoat's bootlegging tale, scripted by Nick Cave based on Matt Bondurant's book The Wettest County in the World, died and came back to life over a year ago.
The first trailer was pretty great, especially as it showed off some crazed work from supporting actors Guy Pearce and Gary Oldman. Now there's a new trailer that minimizes co-star Shia LaBeouf in favor of pushing Tom Hardy to the fore; I don't think many people are going to mind.
In addition, TWC has released an infographic breaking down the guns used by the main characters. Not a typical marketing tactic, but it's a neat little chart. Check out both below.
Yahoo has this trailer, which definitely has some Hardy highlights. It centers around a monologue from his character talking about what mean sons of bitches he and his fellow Bondurants are.
The infographic comes via MTV, and there will be more images in the same vein over the coming weeks. Lawless opens on August 29.