Mondo Kicks Off 'Lord Of The Rings' Poster Series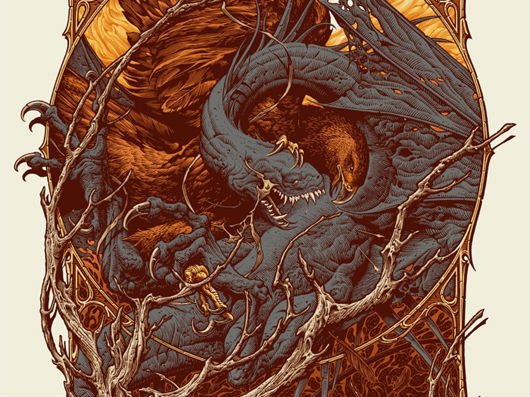 They've done Star Wars, they've done Star Trek, and now Mondo will complete the holy trilogy of geek properties. At Thursday night's tenth Mondo Mystery Movie, they revealed the first in a series of posters for The Lord of the Rings, based on the novels by J.R.R. Tolkien. The first poster for The Lord of the Rings: The Return of the King is by Aaron Horkey and you can see it in all its glory after the jump.
Here's Aaron Horkey's Return of the King, regular and variant.
It's in an edition of 260 for the regular and 125 of the variant which will only be available at tonight's screening. The size is an awkward (classic Horkey) 19.25 by 39.
And guess what, if you don't like it, you'll certainly find something to like because this is the first in a series that will include "all films and multiple artists."
Earlier this year, the Mondo guys teased an epic series very much like the 2010 Star Wars series and this is obviously it. That means it's a good bet almost every single one of their artists will be doing a poster. For Star Wars, some were full movie posters but most were just select scenes and iconic characters. So imagine your favorite scenes or characters in The Lord of the Rings getting their own poster. Also, don't forget, The Hobbit: An Unexpected Journey is being released later this year and now with this license, there's no way that won't be part of this series.
And before everyone starts complaining about "too many Mondo posts" I'd like to put this on the record. Mondo is literally doing stuff with movies and posters that no one else has ever done. No company has ever gotten these high end, official licenses, and made limited edition posters for them by talented artists. Have artists made posters for Back to the Future, Marvel, DC, Ghibli, Universal Monsters, etc. before? Of course. But not 100% officially licensed by the studio and not with an international roster ranging from Australia to South America and with names like Drew Struzan.
So when they get Peter Jackson, New Line, Warner Bros. and the Weinsteins to agree to make a full series posters for one of the most epic film series' of our, or any, generation? Yes, it's a big deal.
Okay, end rant.
What do you think of Horkey's kick off to this series. Who are your dream pairings of scenes, characters or artists?