TV Bits: 'Eastbound & Down' Season 4 Details, Plus: Jerry Seinfeld, 'L.A. Noir', 'Fraggle Rock' Spin-Off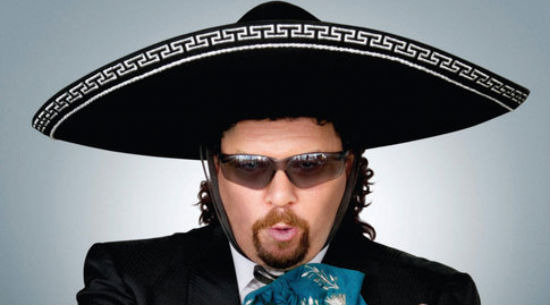 Thanks to Independence Day, it's been a fairly slow week for film news — but it looks like the TV folks have been keeping themselves plenty busy over the past few days. After the jump:
Danny McBride talks the surprise fourth season of Eastbound & Down
A Fraggle Rock spin-off, The Doozers, will shoot in Canada this month
Watch a teaser for Jerry Seinfeld's Comedians in Cars Getting Coffee
Frank Darabont's L.A. Noir pics show Jon Bernthal and Simon Pegg
McBride acknowledged that he and co-creator Jody Hill had felt "very creatively fulfilled" by the way the third season ended, but that they started thinking about what they might do if the show continued. "Even as we were shooting the third season and Jody and I were like, 'This is it,' we still sort of were thinking 'If we did do one more, this is sort of where it could go,'" he said. "We did have an idea for a sort of an epilogue to the show. [...] And for a while, we thought of this epilogue as something that was maybe like an hour and a half special, and the more we talked about it, the more we thought it could be one more season."
McBride revealed that the new season would explore "what life would be like once April (Katy Mixon) and Kenny were together," which is "what the third season was going to be" before Mixon's commitment to Mike & Molly wound up conflicting with her involvement in Eastbound & Down. "That was the one story arc we felt like we were unable to finish the way we imagined," McBride said. "What would that be like for Kenny Powers to finally get what he always wanted?" Happily, HBO was able to rearrange the schedule to get better access to Mixon in the new season, so she'll feature more prominently in the upcoming episodes.
"We wouldn't have signed up for it if we weren't confident about being able to deliver something that won't take away from what we've done, that will add to it and give us one last encore performance of this disgusting man," McBride added. Head to HitFix to read more.
It'll be a while yet before the big-screen adaptation of Fraggle Rock hits theaters, but a separate small-screen spinoff of the Jim Henson Co. property is already on track to shoot later this month. DHX Media (Yo Gabba Gabba!) and the Jim Henson Co. are joining forces to make The Doozers, about the species of small green builders who appear in the original Fraggle Rock series. Standing about six inches tall and perpetually clad in hard hats and work boots, the hard-working Doozers fill Fraggle Rock with their constructions. The Fraggles then eat the Doozers' creations, which in turn clears up more space for the Doozers to keep building.
No premiere date has been announced at this time, but The Chronicle Herald (via HuffPo) reports that production will begin this month at DHX Media's CGI animation studio, located in Halifax, Nova Scotia.
The show about nothing earned Jerry Seinfeld enough money to buy him a famously expensive classic car collection, and now Seinfeld will be using those same wheels for his new show about — well, if not nothing, at least not much. Titled Comedians in Cars Getting Coffee, the web series is exactly what it sounds like: Seinfeld driving around with well-known friends like Larry David, Michael Richards, Ricky Gervais, Alec Baldwin, and Colin Quinn, chitchatting on their way to a caffeine fix. Check out the first teaser below:
Comedians in Cars Getting Coffee will premiere July 19 on Crackle.com. [THR]
TNT's L.A. Noir may boast The Walking Dead ex-showrunner Frank Darabont behind the camera and former stars Jon Bernthal, Jeffrey DeMunn, and Andrew Rothenberg in front of it, but a first glimpse from the set suggests that that's where the similarities to the AMC zombie drama stop. Screen Crush dug up a couple snapshots of Bernthal shooting the pilot, along with high-profile guest star Simon Pegg. Pegg's role remains "top secret," but Bernthal will be playing cop Joe Teague, part of the team tasked with taking down mob boss Mickey Cohen and rooting out corruption within the LAPD's own ranks.
The series also stars Milo Ventimiglia as a World War II vet who now works for the mob, while Alexa Davalos is set to play Jasmine, "a beauty with a complicated past." DeMunn, Rothenberg, and Neal McDonough will play other LAPD officers. Set in 1940s Los Angeles, the series is based on John Buntin's book L.A. Noir: The Struggle For The Soul Of America's Most Seductive City.