'Why Stop Now?' Trailer: Jesse Eisenberg And Tracy Morgan In A Comic Drug Run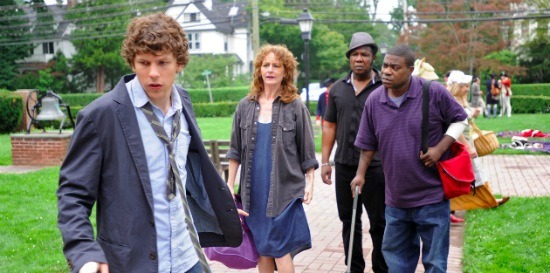 When the comedy Why Stop Now? premiered at Sundance back in January it was called Predisposed. The film stars Jesse Eisenberg as a responsible young piano prodigy who holds the family reins because his mother (Melissa Leo) is a drug addict. Her need for drugs leads Eisenberg's character to the home of her dealer (Tracy Morgan) and into an adventure that has elements reminiscent of Eisenberg's film 30 Minutes or Less and the recent comedy The Sitter.
So does the film work? There's a lot of Tracy Morgan doing what Tracy Morgan often does, but Leo and Eisenberg both look strong. Check out the new trailer after the break.
Germain reviewed the film at Sundance, praising Eisenberg's work as "his most dynamic performance to date. Yes, better than The Social Network." He added,
...the main flaw in Predisposed is that while it tries to be a comedy first and drama second but it's actually way more dramatic than comedic. Many of the jokes fall horribly flat or only elicit minor smiles. On the other hand, when the humor grows out of drama, it consistently works. The screenplay, co-written by the directors, does a great job of keeping the action moving, though, so even when the humor isn't working, the story is consistently entertaining.
Yahoo has the trailer. Why Stop Now? opens limited on August 17, but the film is available to watch today on SundanceNOW.
The bittersweet story of Eli Smith, a piano prodigy, and his mother Penny who despite her cheerful, loving disposition, struggles with drug addiction. On the day of his audition for a prestigious music program, Eli's mother plans to enter rehab, but a glitch in the system forces them to enlist the help of an unlikely ally, her drug dealer Sprinkles. Circumstances conspire that turn them into a comical yet determined band of collaborators who are forced to deal with their internal demons over the course of the day.