'Jack Reacher' Trailer: "Remember, You Wanted This"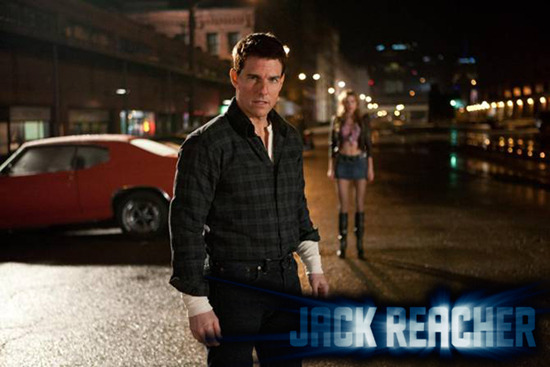 Over the weekend we saw a low-quality Russian-dubbed version of the trailer for Christopher McQuarrie's film Jack Reacher in which Tom Cruise plays a serious hardass ex-MP drawn into what seems like an open-and-shut sniper killing. Now the real thing has arrived, and it clears up a couple things. One is that the color palette of the film is nowhere near as dingy as the last look suggested. (We can now see the detail of Reacher's scars shown as he's dressing at the opening.) It also begs the question of how well Cruise and the script are really going to mesh with expectations fans have for the character, but I can wait for the full film to figure that out.
Otherwise it's the same trailer, opening with a small monologue from the guy who is arrested for the crime that sets the story in motion, and ending with Reacher demonstrating to a few local tough guys that they aren't nearly as hard as they want to be. Check it out below.
More than anything else, this footage looks a bit generic, with the dialogue about Reacher's nature falling a bit flat for me. But the supporting cast, listed below, might help out, and I still want to see what McQuarrie has managed to do here.
Yahoo has the trailer. Jack Reacher opens on December 21. The film also stars Werner Herzog as the villain, and Rosamund Pike, Robert Duvall, Richard Jenkins and Michael Raymond-James in supporting roles. This is the synopsis of One Shot, the novel on which the film is based:
Six shots. Five dead. One heartland city thrown into a state of terror. But within hours the cops have it solved: a slam-dunk case. Except for one thing. The accused man says: You got the wrong guy. Then he says: Get Reacher for me. And sure enough, ex–military investigator Jack Reacher is coming. He knows this shooter—a trained military sniper who never should have missed a shot. Reacher is certain something is not right—and soon the slam-dunk case explodes. Now Reacher is teamed with a beautiful young defense lawyer, moving closer to the unseen enemy who is pulling the strings. Reacher knows that no two opponents are created equal. This one has come to the heartland from his own kind of hell. And Reacher knows that the only way to take him down is to match his ruthlessness and cunning—and then beat him shot for shot.