POTD: Does This 'Iron Man 3' Concept Art Show Extremis?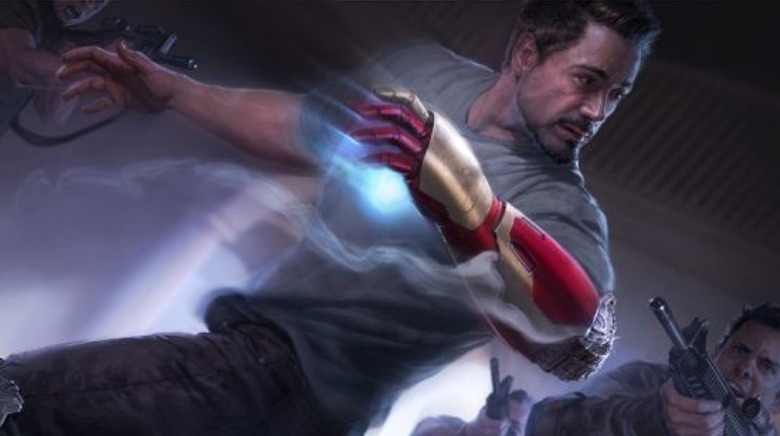 The floodgates on next summer's Marvel blockbuster, Iron Man 3, are set to open later this month when Marvel Studios president Kevin Feige
San Diego Comic-Con to talk about the film. Before that happens, however, Marvel is opening the faucet ever so slightly by releasing a concept image that's sure to get fans talking.
Directed and co-written by Shane Black, Iron Man 3 has
, but not yet confirmed, to center on Extremis, a tech based virus that turns regular people into super soldiers. In a new piece of concept art released by Marvel, we see what might be exactly that – Tony Stark (played by Robert Downey Jr.) in the middle of a slew of soldiers as his arm appears to be slowly turning into that all too familiar red and yellow armor. Or maybe not. Check it out below.
Thanks to
for this great image drawn by Ryan Meinerding.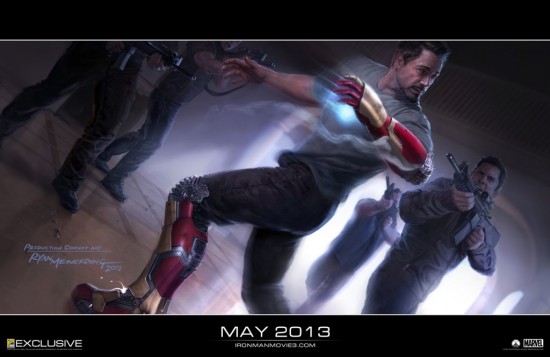 Click on the image and take a closer look at Tony's left art. Around the elbow, it certainly looks like it could be a kind of organic blend of circuits and metal. Or maybe it's just like the piece on his knee, one limb of the Iron Man costume. Either way, the image begs the question, why would Tony Stark be caught with only two pieces of the Iron Man costume on? Extremis – a process that allows Stark to eventually become the Iron Man costume – would seem like a logical explanation, but I'll leave it to you to debate.
Iron Man 3 is scheduled for release May 3, 2013. All of the principal actors are returning along with new additions played by Guy Pierce, Ben Kingsley, James Badge Dale, Rebecca Hall and others.
Several set photos have leaked
as the film is currently in production giving glimpses to the film's plot and, come Comic Con, we'll have much more on that.
What are your thoughts on the above art?