Exclusive Clip: Matthew McConaughey Tells A Sickening Story In 'Killer Joe'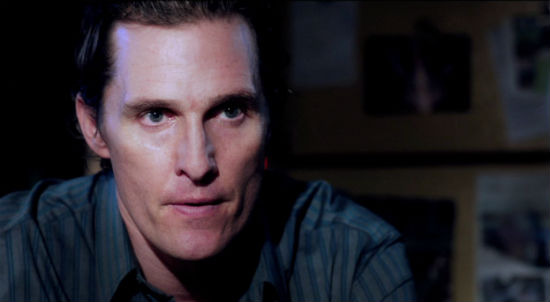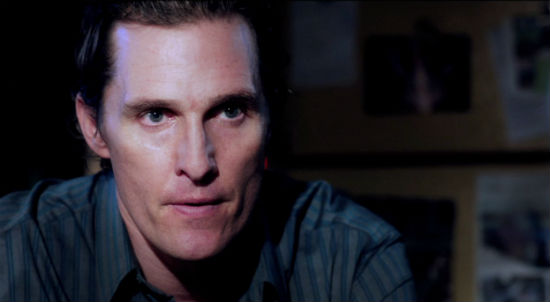 Matthew McConaughey is one of those actors that isn't afraid to try new things. He can go from iconic role (Dazed and Confused), to blockbuster leading man (A Time To Kill), anchor a romantic comedy (Failure to Launch), or give a stunning, award-worthy supporting performance (Magic Mike). And that's not even the half of it. (Think Sahara, Tropic Thunder, We Are Marshall, The Lincoln Lawyer, etc. Actually, don't think about Sahara.) You never quite know what he'll end up doing next. In the case of William Friedkin's controversial thriller Killer Joe, the actor might end up sitting across from Juno Temple talking about mutilated genitalia.
That's what you're about to see in /Film's exclusive clip from the shocking, NC-17 rated film version of the play by Tracy Letts. Killer Joe is about a young man played by Emile Hirsch who convinces his father (Thomas Hayden Church) to have a local policeman (the title character played by McConaughey) kill the mother of the family. The price? Cash, of course, and the virginity of the young sister, played by Temple. Yeah. It's a screwed-up kind of movie, but that's what makes it so insanely watchable. See for yourself on after the jump.
Here's an exclusive clip from Killer Joe. The audio is not particularly profane, but it is graphic, so be advised.
Messed up right? The entire movie is like that. I saw it several weeks ago and am still trying to process what it's all about. The film is extremely straightforward and narrative, almost to a fault, but the characters are all dealing with such deep, traumatic psychological problems, their actions just keep compounding into a world of madness. By the end, you know exactly what the film did, but have almost no idea why it did it. And that's a fun quality in a movie.
Also, it's important to note that while Killer Joe was given an NC-17 for "graphic disturbing content involving violence and sexuality, and a scene of brutality" you've likely seen worse. It's gory and disturbing but not in a way that warrants the seal of death.
Killer Joe opens on a limited basis July 27. Head to the official website for theaters and all that good stuff.
What do you think of the clip? Was it a nice balance to McConaughey's current theatrical showing?