'Jack Reacher' International Trailer Suggests Tom Cruise's Own Version Of 'Drive'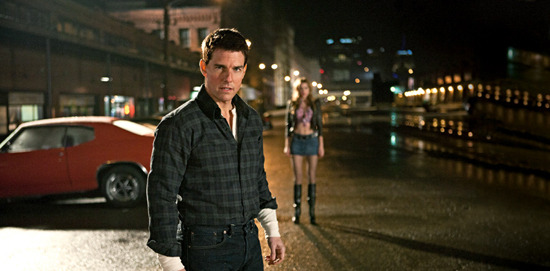 A Russian version of the teaser trailer for Christopher McQuarrie's Jack Reacher has come online, and it marks the first good look most of us have had at the film. Tom Cruise stars as Lee Child's fan-favorite hero Jack Reacher. He's a former military policeman who lives out his post-Army career as an itinerant who has a tendency to get drawn into violent, weird situations as he explores America.
This film is an adaptation of the novel One Shot, in which a sniper kills a handful of people in a midwestern American city, and while in police custody has only one request: "get me Jack Reacher."
While there was no shortage of consternation over the casting of Cruise as Reacher, who in Child's novels is described as a hulk of a man, the weirdest thing here might be the car-centric editing of the trailer. Those familiar with the Reacher novels know the character isn't really car-oriented. The whole car thing, combined with the dingy, moody visuals, help suggest overtones of Drive. It's an interesting ad angle to take.
I'm looking forward to really seeing how the film turned out, but in the meantime check out the Russian trailer below. Sadly, there is no view of Werner Herzog, who plays the villain.
That fight scene at the end is part of what was shown at CinemaCon, and I ran down a bit of what we can take away from it here. I can see why this teaser would highlight that and also use dialogue that, I suspect, is meant to communicate what a machine Reacher is. But I'd like to see some of the supporting cast, too: Rosamund Pike, Robert Duvall, Richard Jenkins and Michael Raymond-James.
I'd also like to see if the color palette is really as dingy as this trailer shows. The first released photo, combined with another one shown off at Empire, suggest it might not be.
With the overdubbed dialogue it is difficult to get an idea of how the script works (though you can enable subtitles on the embed by hitting the "CC" button) and beyond that Cruise looks like he's in his action-movie element. Will he play as Reacher? Probably not as a strict adaptation of the novel version of the character, but if this version works on screen, I'll be happy.
Jack Reacher opens on December 21.