'Cirque Du Soleil: Worlds Away' Trailer: James Cameron And Andrew Adamson Train 3D Cameras On The Circus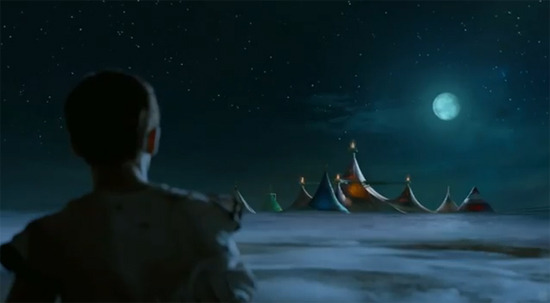 Dance films have become big once more, and while the Cirque du Soleil troupe may not be a dance troupe, per se, there may be no single collection of more able and adventurous physical performers in the world today. Traditional Cirque performances are staggeringly popular, but now that Andrew Adamson (Shrek, The Lion, the Witch, and the Wardrobe) and producer James Cameron have trained 3D cameras on a group of Cirque performers, the resulting movie might be the ultimate dance film.
The trailer for Cirque du Soleil: Worlds Away won't give away much idea of what the film is about, as far as story goes, but it does show us what the movie really cares about. That is, capturing the highfalutin' circus performers in as much detail as possible.
Adamson wrote and directed the film, and work started back in 2010. We learned early this year that Adamson shot Cirque Du Soleil performances in Vegas, and that the circus stage plays the part of "a magical world where the film's lead character has been transported."
Back in December 2010 Adamson also shot some live-action material in New Zealand, the idea seemingly being that the NZ footage would wrap around the Vegas performances. And as seen in the trailer below (and the header image above) that definitely seems to be the case.
The idea is that this feature will be the first in which Cirque du Soleil performances will be the centerpiece of a family-friendly story, so if it does well we might see several more films in this vein.
Apple has the trailer. Cirque du Soleil: Worlds Away opens on December 21.