Zoe Aggeliki In Talks To Play Johanna Mason In 'The Hunger Games: Catching Fire'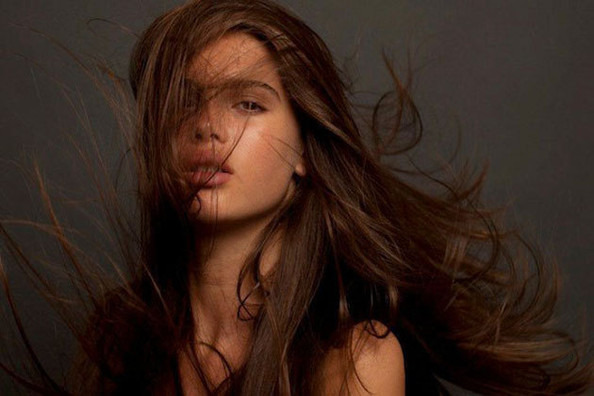 One of the big new characters in the Hunger Games sequel Catching Fire is Johanna Mason, and for the past few weeks we've seen quite a list of actresses who have been considered for the role. Huge Hunger Games fan Kristen Bell wanted the gig, but actresses like Mia Wasikowska, Jena Malone, and model/actress Zoe Aggeliki were the ones who seemed to have the best chance of getting the job.
And now Aggeliki is in talks for the role.
Deadline says that, as we knew, the choice was coming down to a decision between Malone and Aggeliki, and that the latter is in "the most serious talks" after both women auditioned for Catching Fire director Francis Lawrence. This would mark the second big role that Lawrence has cast, as he also smartly chose Philip Seymour Hoffman to play Plutarch Heavensbee.
And while Aggeliki may seem new to some audiences, she has already shot a role in R.I.P.D., which features Ryan Reynolds and Jeff Bridges as dead/supernatural law enforcers, and she is also set for a part in Percy Jackson: Sea of Monsters.
Because Angie knows far more than I do about Catching Fire, I'll quote her on the role that Johanna plays in the story:
Johanna is a former Hunger Games victor who's a few years older than Katniss (Jennifer Lawrence) and Peeta (Josh Hutcherson). Crafty and fierce, Johanna won in her year by feigning weakness so her competitors would underestimate her. The character develops a prickly relationship with Katniss, but the two eventually come to respect each other on some level.
While we're on the subject of Catching Fire, star Jennifer Lawrence recently said that Lawrence "isn't trying to reinvent anything" as he takes over the series, and also explained,
The new movie will be very real, which is what I'm excited about. I really like his take, which is a lot of what I liked in Gary Ross. It's the realistic grasp of the story instead of all the details of the imaginary things.
Catching Fire opens on November 22, 2013.