Walt Disney Animation And Don Hall Developing Adaptation Of Marvel's 'Big Hero 6'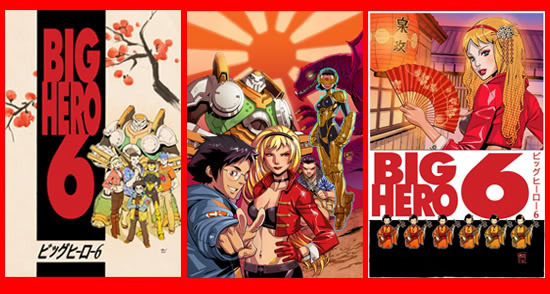 From the instant that Disney bought Marvel, fans put two and two together and began to envision a Disney animated Marvel movie. Rumors of something to that end continue to creep up, especially now that Marvel's live action films have reached such stratospheric heights and Marvel Studios President Kevin Feige has repeatedly stated that discussions between Disney Animation and Marvel are ongoing.
It seems now the subject of those discussions has been revealed. But it's not the X-Men, Spider-Man, Iron Man or one of the popular characters. It's not even one of the joke characters like Howard the Duck. Rumor has it that director Don Hall (Winnie the Pooh) is currently developing a Disney animated film based on the Marvel comic book Big Hero 6 aimed at a 2014 release. Read more after the jump.
The rumor originally popped up on It's The Grid and was then independently reaffirmed by Blue Sky Disney.The official word from Disney is "No comment" but maybe we'll hear something official soon
Are you, like me, competely in the dark as to what Big Hero 6 is? Here's some background from the Marvel Wiki:
When the Japanese government wanted a team of state-sanctioned super-heroes at their disposal, a top-secret consortium of politicians and business entities known as the Giri was formed to recruit and train potential superhuman operatives for "Big Hero 6." Despite reservations by some members of the Giri, Silver Samurai, a freelance ronin and former bodyguard of the terroristViper, was appointed as field commander. Secret agent Honey Lemon, inventor of the nanotechnology-based Power Purse from which she could access any object, also agreed to join the team. The tough-talking GoGo Tomago, able to transubstantiate her body into a fiery force blast by uttering her code-name, was released from prison on the condition that she serve on the team. The Machiavellian bureaucrat known only as Mr. Oshima was appointed as the Giri's spokesperson and coordinated Big Hero 6's activities.
Basically, it sounds like a blend of The Avengers and X-Men, no? A team together by a government agency comprised of all kinds of people with superhuman talents.
According to the aforementioned articles, there's no script yet but Don Hall pitched this to John Lassiter and, if all falls into place, it'll the the third Marvel movie released in 2014.
Have you read Big Hero 6? Are you a fan?
Image: David Nakayama