'Silver Linings Playbook' Trailer: Bradley Cooper And Jennifer Lawrence Have Some Mental Issues To Work Out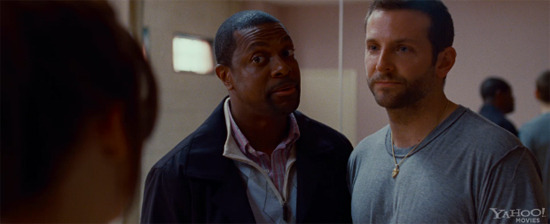 Jennifer Lawrence exploded as a great new talent thanks to Winter's Bone, and some of her major roles that followed (such as X-Men: First Class, and The Hunger Games) had her playing a variation on the young girl who steps up to adult responsibility in a big way.
So it's a joy to see her in footage from David O. Russell's new film Silver Linings Playbook. This is Lawrence playing a really adult sort of role, as she is a woman with some pretty serious, if occasionally gently comic mental issues. The film nominally revolves around Bradley Cooper, playing a guy recently released from institutionalization and trying to segue back into "real" life with the help of his parents (Jacki Weaver and Robert De Niro). He meets Lawrence, and their particular problems seem to mesh. Oh, and Chris Tucker shows up, too.
The film looks like a partial return to the sort of story on which Russell cut his teeth (think Flirting With Disaster and Spanking the Monkey), though there seems to be a lighter, more generally crowd-pleasing third act here. Lawrence looks great in the role, and Cooper also seems to be expanding under Russell's tutelage. (Something that we've seen other actors do in the past.)
Check out the trailer below.
Yahoo has the trailer. Silver Linings Playbook opens on November 21.
Adapted from the best-selling novel by Matthew Quick, THE SILVER LININGS PLAYBOOK is a touching, one-of-a-kind comedy about love and second chances. Pat Peoples (Bradley Cooper) is a man always trying to look on the bright side of life – the title of the story takes it's name from the expression that "every cloud has a silver lining." Released from the hospital after losing his wife to another man, Pat believes this age-old adage is just the ticket to trying to win her back and get his life on track. Trying to remain resolutely undiscouraged, Pat moves back in with his parents and devotes himself entirely to becoming the man his wife always wanted him to be. But it's an uphill battle. Until Pat meets Tiffany (Jennifer Lawrence), a beautiful young woman whose life also has not turned out the way she wanted. Together, the couple will try and navigate through their lives and stay true to who they are, always just one adventure away from a unique friendship, and possibly even love.