San Diego Comic-Con Scheduling Begins: Wednesday & Thursday Highlights Include 'Arrow,' 'Twilight,' 'Oz,' 'Expendables' And More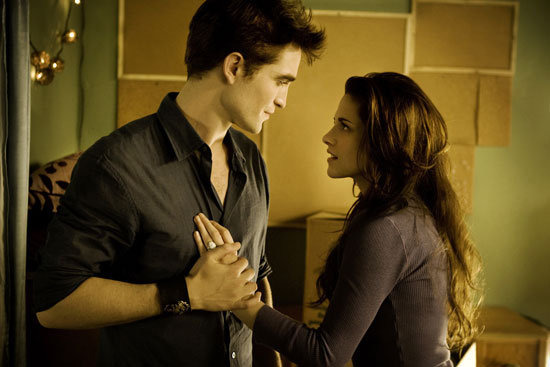 It's coming. San Diego Comic-Con 2012 is mere days away, kicking off Wednesday night July 11 for preview night and then getting into full gear Thursday July 12. If you can believe it, this year, more than others, is jam packed with goodness, even with studios like Paramount generally bowing out. Movie panels have spilled into neighboring hotels, TV panels have finally cracked Hall H (on days before Sunday, which was once the TV day in H) and more.
Below, we'll link to the full schedule and also pull out the Movie and TV related highlights for Wednesday and Thursday. Check back the rest of the week for the rest of the schedule, which includes Iron Man 3, The Hobbit, Man of Steel, Breaking Bad, Game of Thrones and much more.
Head to the Comic Con site to see the full schedule of amazing events. Here are just a few highlights for Wednesday and Thursday.
6:00-9:45 Wednesday Special Sneak Peek Pilot Screenings— Comic-Con and Warner Bros. Television proudly continue their annual Preview Night tradition, with exclusive world premiere screenings of the pilot episodes of five of the most highly anticipated TV series pilots of the 2012–13 television season: 666 Park Avenue, Arrow, The Following, Revolution and Cult. Ballroom 20
11:15-12:00 DreamWorks Animation— DreamWorks Animation's chief creative officer Bill Damaschke anchors a diverse group of filmmakers to demo and discuss the artistic ambition and technical innovation that goes into moviemaking at DreamWorks Animation. Moderated by Anthony Breznican fromEntertainment Weekly.Indigo Ballroom, Hilton San Diego Bayfront
12:45-1:45 The Twilight Saga: Breaking Dawn-Part 2— Summit Entertainment presents a sneak peek at the highly anticipated conclusion of The Twilight Saga films. This is a must-see for fans interested in the story's final chapter. You will be shown exclusive footage from The Twilight Saga: Breaking Dawn-Part 2 and be treated to a cast and filmmaker Q&A session providing details on the epic finale. Hall H
2:05-3:05 Walt Disney Studios: Frankenweenie, Oz The Great and Powerful, andWreck-it Ralph— Walt Disney Studios hosts a Q&A panel featuring the imaginative director ofFrankenweenie, Tim Burton (Alice in Wonderland); a special look at the world of Oz The Great and Powerful with director Sam Raimi (Spider-Man trilogy); and the illustrious voice cast of Walt Disney Animation Studios' Wreck-It Ralph, including John C. Reilly (Step Brothers) andSarah Silverman (The Sarah Silverman Program), and director Rich Moore (Futurama).Hall H
3:00-4:00 Hotel Transylvania— Welcome to Hotel Transylvania, Dracula's lavish five-stake resort, where monsters and their families can live it up, free to be the monsters they are without humans to bother them. On one special weekend, Dracula has invited some of his best friends-Frankenstein and his bride, the Mummy, the Invisible Man, the Werewolf family, and more-to celebrate his beloved daughter Mavis's 118th birthday. For Drac, catering to all these legendary monsters is no problem-but everything could change for the overprotective dad when one ordinary guy stumbles upon the hotel and takes a shine to Mavis. Animation superstar Genndy Tartakovsky, who previously created Dexter's Laboratory and Star Wars: Clone Wars, among other projects, takes the helm of this project for his first feature film, and takes the stage to tell you all about it. Indigo Ballroom, Hilton San Diego Bayfront
4:00-5:00 Wilfred: Screening and Q&A— Elijah Wood (Lord of the Rings) stars as Ryan, a young man struggling unsuccessfully to make his way in the world until he forms a unique friendship with Wilfred, his neighbor's canine pet, played by Jason Gann (The Wedge), who co-created and starred in the Australian version of Wilfred in 2007. While everyone else sees Wilfred as just a dog, Ryan sees a crude and surly man in cheap dog suit.  Elijah and Jason join Wilfred co-stars Fiona Gubelmann (Don't Trust the B** in Apt 23), and Dorian Brown(Roommates) as well as showrunner/executive producer David Zuckerman (Family Guy) and executive producer/director Randall Einhorn (The Office) to discuss bringing this unique live-action comedy to life. Indigo Ballroom, Hilton San Diego Bayfront
4:30-5:30 Masters of the Web— The annual gathering of some of the most prominent and influential film pundits on the web discuss the film industry, writing for film online, film fandom, and a whole lot more. Moderated by star of the new Lionsgate film Dredd, Karl Urban(Star Trek, Lord of the Rings: Return of the King), with special surprise cast members from the film. Panelists include Mike Sampson (ScreenCrush.com), Jen Yamato (MovieLine.com),Mali Elfman (ScreenCrave.com), Erik Davis (Movies.com), Steve "Frosty" Weintraub(Colider.com), Grae Drake (Fandango.com), Jenna Busch (Cocktails with Stan Lee), andEdward Douglas (ComingSoon.net), and hosted by John Campea (AMC Theatres). AMC is generously providing free movies passes to all attendees of the panel this year! Room 24ABC
4:45-5:45 The Expendables 2-Real American Heroes— Sylvester Stallone and the legendary cast of the sequel to 2010's smash hit film preview the real-deal muscles, weapons, skills, and explosions that went into making a film even bigger and badder than the original.Terry Crews, Randy Couture, Dolph Lundgren, Jean Claude Van Damme, and Arnold Schwarzenegger will join the panel discussion. Hall H
6:15-8:15 The Virtual Drive-In— Come with us again to those thrilling days of yesteryear where one of the few places you could see offbeat genre films was at your local drive-in, huddled safely in your car as the summer sky darkened around you. At least that was the germ of an idea that gave birth to this panel last year, and the reception by those fans who attended was so positive they're doing it again. So, welcome to the second edition of the Virtual Drive-In, where you will preview three twisted tales by some talented filmmakers who will all be appearing on the panel to discuss their work and take your questions. Moderated byRobert Meyer Burnett. The featured films are: Branded, Crave, Coldwater. Hall H
7:00-8:00 Inside The Batmobile— No vehicle has ever captured fans' imagination like the Batmobile. Be the first to see an exclusive Comic-Con, 22-minute sneak peek at the upcoming documentary The Batmobile, an in-depth examination of its many incarnations and impressive history. A panel discussion will follow the screening featuring distinguished Batman expertsGeorge Barris, designer of the famed 1966 Batmobile; Andy Smith, builder of the modern-day Dark Knight "Tumbler"; respected producer/author Michael Uslan (The Boy Who Loved Batman); Ralph Cirella and Jon Hein, hosts of GEEKTIME! Sirius-XM Howard 101; and a few surprise guests. Stay to the end, when a drawing among all panel attendees will determine which lucky five fans can sit in a Batmobile-which is on display all weekend in the "Batcave" between Hall H and the Bayfront Hilton. Room 6DE
8:30-10:00 Dr. Horrible's Sing-Along Blog Sing-Along— Join the fun as the California Browncoats screen Internet sensation Dr. Horrible's Sing-Along Blog-coming back with call back sheets so you can play along during the screening. Enter our costume contest: horrible prizes awarded to the best version of each character from the show. DO NOT BOUNCE.Room 6BCF
8:30-10:30 Comic-Con Episode IV: A Fan's Hope— San Diego Comic-Con premiere screening of the ultimate fanboy documentary from executive producers Stan Lee, Joss Whedon, Harry Knowles, and Thomas Tull. Q&A to follow with director Morgan Spurlock(Warrior Poets) and special surprise guests. Ballroom 20