Dave Perillo's 'Breaking Bad' Art Details The Fine Art Of Corpse Disposal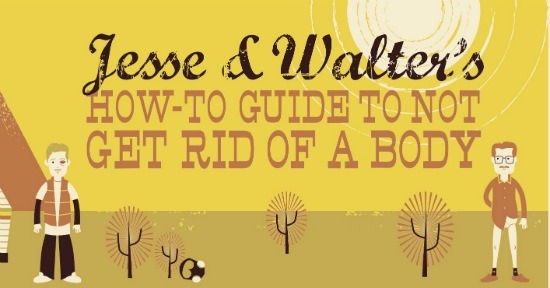 Dave Perillo is an artist we've featured on /Film for years. In fact, if the site goes down, it's his art that comes up letting you know of the 404 status. He has an incredibly unique, geometric, retro-cartoonish style that lends itself very well to family-friendly fare. Breaking Bad, however, is decidedly not family-friendly. The juxtaposition of Perillo's style and a subject like disposing of a dead body makes for a beautiful addition to the Breaking Bad Art Project. Check it out in full below. 
Fans following @BreakingGifs who went to The Hundreds in either New York or Los Angeles today got a limited edition t-shirt. They were also tipped off to the latest URL:  liveandletliveman.com. That's where you'll find this poster for sale very soon.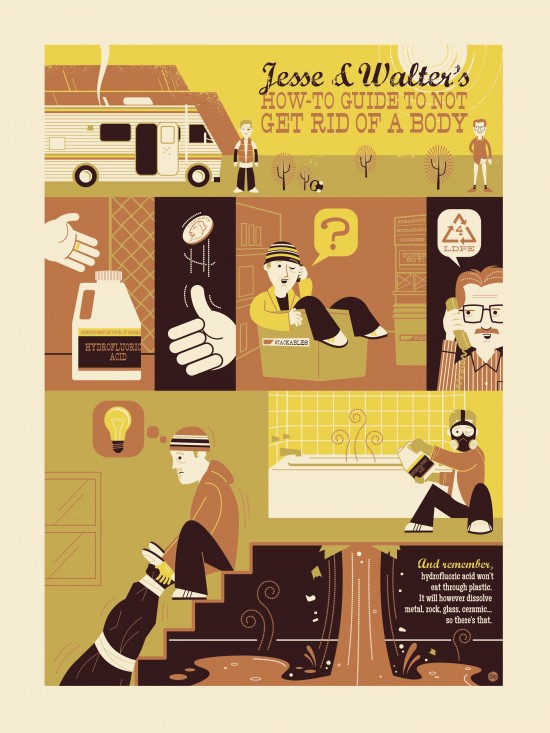 Dave Perillo's Emilio's Disposal is an 18 x 24 inch edition of 300. It costs $50.
Also, an article in the
New York Post
hinted that this series will continue through September – the end of the show's latest, upcoming season, and will have some kind of major reveal at San Diego Comic-Con. I, for one, can't wait.
As always, keep and eye on 
BreakingGifs.com
 and 
@BreakingGifs
 for announcements on this series. 
BreakingGifs.com
 is viral campaign to promote the upcoming final season of 
Breaking Bad
 on AMC. Curated and run by Tyson Givens and Gallery 1988, each week the site will link to a new piece of 
Breaking Bad
 themed art by well-known and up and coming artists, all leading up to the show's premiere July 15.