'Red Hook Summer' Trailer: Escaping Atlanta, Finding Jesus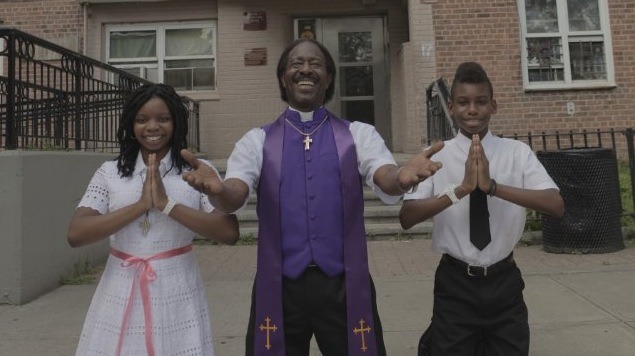 Spike Lee is back this year with Red Hook Summer, a film that continues his chronicle of Brooklyn living, as begun in She's Gotta Have It and continued through Do The Right Thing, Crooklyn, and other films.
This time the focus is Flik (Jules Brown), a kid who leaves Atlanta for a summer to live with his very religious grandfather (Clarke Peters) in Red Hook, Brooklyn. With his grandfather pushing the church on Flik and various aspects of life in the projects hitting him for the first time, the only bright spot is Chazz (Toni Lysaith), a girl Flik takes up with, and who shows him the better side of city living. Check out the trailer below.
When I think of Lee and Brooklyn, I think of Do the Right Thing, which is a tremendously gorgeous film, and so the fairly low-impact cinematography here seems to come up short in the comparison. But this trailer has a few things in it that are compelling, and I do have a fondness for films that look at the intersection between characters who base their lives on faith, and those who aren't so comfortable with that way of living.
Germain took issue with the edit presented at Sundance this year, however:
There's a good movie somewhere in the middle of the 130 minutes comprising Spike Lee's Red Hook Summer. A focused movie. A movie that has a lot to say about the conflict between younger and older generations, faith versus religion, young love and even technology. That movie is in there. Unfortunately, Red Hook Summer as it currently stands at the 2012 Sundance Film Festival is a bulky, dense and meandering film. It is at times thought-provoking and at others just plain confusing.
It looks like the version of Red Hook Summer that will hit theaters soon has been trimmed by nine minutes (I see a listed running time of 121 min. for the upcoming release) so we'll hope that some of those issues have been addressed.
And one early line in the trailer made me laugh: "There's some shady people up here, this is not Atlanta." Because, man, Atlanta is easily just as shady as the tough parts of Brooklyn. But maybe Flik is coming from Sandy Springs.
Apple has the trailer. Red Hook Summer is released on August 10.
The latest in Spike Lee's Chronicles of Brooklyn anthology–which also includes "She's Gotta Have It" (1986), "Do The Right Thing" (1989), "Crooklyn" (1994), "Clockers" (1995), and "He Got Game" (1998)–RED HOOK SUMMER tells the story of Flik Royale (Jules Brown), a sullen young boy from middle-class Atlanta who has come to spend the summer with his deeply religious grandfather, Bishop Enoch Rouse (Clarke Peters), in the housing projects of Red Hook. Having never met before, things quickly get off on the wrong foot as Bishop Enoch relentlessly attempts to convert Flik into a follower of Jesus Christ. Between his grandfather's constant preaching and the culture shock of inner-city life, Flik's summer appears to be a total disaster–until he meets Chazz Morningstar (Toni Lysaith), a pretty girl his age, who shows Flik the brighter side of Brooklyn. Through her love and the love of his grandfather, Flik begins to realize that the world is a lot bigger, and perhaps a lot better, than he'd ever imagined.