Sequel Bits: Fake 'The Big Lebowski 2,' Plus 'The Expendables,' 'Think Like A Man,' 'Bourne,' 'The Hangover Part III,' And More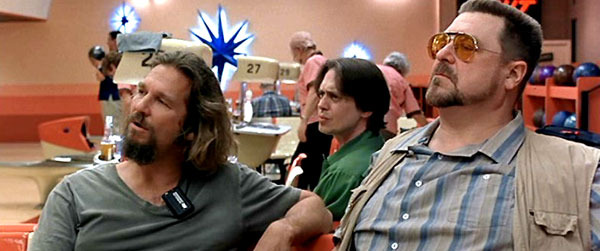 Something about this pre-holiday week has set sequel news on fire, and there are news bites about sequels of just about every possible variation. In this edition of sequel bits:
Oops, CBS reported a Big Lebowski sequel that does not, and will not exist
The Expendables 2 gets a tie-in video game
Think Like a Man gets a follow-up movie
The Bourne Legacy producer hopes the next installment might bring together Matt Damon and Jeremy Renner
Todd Phillips says the third Hangover is really the last
Peter Berg doesn't rule out the possibility of Hancock 2 just yet.
Let's start with the best, dumbest news. Remember when Tara Reid wanted to make a sequel to The Big Lebowski and everyone laughed, including the Coen Brothers? Well, that version looks downright plausible next to the one that swept Facebook and other social media today. Setting things off, a CBS affiliate was suckered by Super Official News, which ran a piece citing 'The Ass Press' saying that The Big Lebowski 2: The Dude Goes To Washington would shoot in October for release in the summer of 2015.
Principals such as Jeff Bridges, John Goodman, Julianne Moore, Philip Seymour Hoffman, and John Turturro were all said to be returning for a story that sees Bill Murray as "a corrupt and evil land owner named Bavarian Illuminati," with Jesse Eisenberg playing the son of the Dude and Maude Lebowski.
There are many, many items in the source that should be tipoffs that the whole thing is bullshit (obviously someone at that affiliate hasn't been following the Bill Murray/Ghostbusters III follies) but everyone gets duped on the internet sooner or later.
What's more depressing is that a sequel to Think Like a Man is getting made, with a press release trumpeting that Keith Merryman and David A. Newman are writing the next chapter to follow the hit first movie, which has taken almost $100m so far this year. (That's against just $12m for the production budget, making the first movie a definite hit.)
The first film was based on Steve Harvey's book Act Like A Lady, Think Like A Man, and Harvey will exec produce the sequel.
A press release, via CinemaBlend, also alerts us to the imminent release of an Expendables 2 video game. It will do this stuff, and it will probably suck:
Players can join up to three friends locally and online to experience all-out action in cinematic, close-quarter combat or while controlling an arsenal of vehicles in exotic locations including Somalian deserts, Burmese jungles, and more, and fans looking to compete for bragging rights can play through several challenges for the top spots on leaderboards.
Nope, never played all that before! But the game features characters like Barney Ross (Sylvester Stallone), Gunner Jensen (Dolph Lundgren), Hale Caesar (Terry Crews) and Yin Yang (Jet Li), and if Ubisoft wants me to control a digital Terry Crews, who am I to argue?
Next, Todd Phillips says the third Hangover film is definitely the last. He insists,
We're going to surprise a lot of people with the final chapter we have planned. It will be a fitting conclusion to our three-part opera of mayhem, despair and bad decisions.
The fact that Phillips says this is the last installment is significant, mostly because this is the sort of series that could theoretically be pushed to Police Academy franchise length. But with the star trio reportedly asking for $15m each to return for the third film, doing more movies with this cast is going to get too expensive pretty fast.
The Hangover Part III is set for release on May 24, 2013, i.e. the same Memorial Day frame that positioned the first sequel to take in more than half a billion (W.T.F.) globally. Bradley Cooper, Zack Galafianakis and Ed Helms are returning, and Phillips is co-writing with Craig Mazin. [THR]
Could a future Bourne film feature both Jeremy Renner and Matt Damon? That would be the obvious goal for Universal, and producer Frank Marshall recently said to Empire,
You see there are several different programmes in the movie with different skill sets. All possibilities are open. My dream is that in the next one we see Matt and Jeremy team up.
That statement led a lot of people to assume this week that his dream is automatically going to come true, but there's a long way to go before that happens. The Bourne Legacy, the first film to feature Renner, hasn't even been released yet, and was just pushed back a week (to August 10) in order to get out of the way of The Dark Knight Rises. To provide a framwork for Marshall's statement, Bourne Legacy writer/director Tony Gilroy also told Empire,
What if there's a much larger story? What if [Jason Bourne's program] Treadstone wasn't the only black-ops programme?
And Renner says,
[My character is] coming from a completely different background to Jason [Bourne]. He knows exactly who he is; he signed up to this...He wants to be part of a team. I can tell you he was in the military then he joined the programme. He's a person who wants to be part of something... to have a sense of purpose. But then it's taken away.
Let's close this out with a bit more of the ridiculous. Peter Berg and Will Smith have both talked (and talked) about a possible sequel to Hancock, the 2008 sorta-superhero film in which Smith played a drunk super-demi-god-guy who cleans up his act thanks to the good influence of Jason Bateman, before running afoul of Charlize Theron. Peter Berg isn't going to say that a sequel is really happening, but he also doesn't say it isn't:
 Will Smith is up for any challenge, and he's definitely up for discussing it. Whether or not that all comes out and equals us actually doing it is never known, but it's something that we've talked about.... We kicked some ideas around. I think we all would like to do it, it's just a question of getting everybody free at the same time. I think it's not just Will, but the producers and the studio. We all loved doing 'Hancock.' If the stars align in the right direction, I think it's something that could happen.
[MTV]