Here's One Shot Of Tom Cruise As 'Jack Reacher'

Below is a new look at Tom Cruise as Jack Reacher, the title character of Christopher McQuarrie's upcoming Paramount film. It's an old trick to say that Cruise just looks like Cruise here, because of course he does — that's the whole point of hiring someone at his level of fame, especially to anchor an action thriller.
The film Jack Reacher adapts Lee Child's novel One Shot, in which the presence of itinerant former military policeman Jack Reacher is requested by a man accused of killing several people at random with a sniper rifle. The weird thing is: Reacher once arrested the same guy, a former serviceman, for another crime, and so he can't figure out why the guy now seems to want his help. The film also features a supporting cast with some attention-getting names: Werner Herzog as the villain, and Rosamund Pike, Robert Duvall, Richard Jenkins and Michael Raymond-James (so good in Terriers) in other roles.
Check out the first real image of Cruise as Reacher below.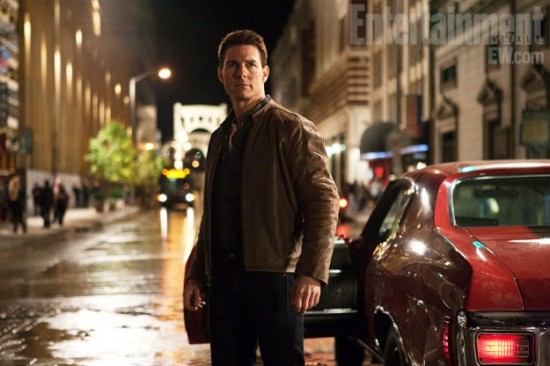 EW has the photo, and also quotes McQuarrie talking about the film, first explaining why the one-time MP character is such a capable crimefighter:
Someone asks him at one point in the story about the difference between a military policeman and a regular cop. Reacher points out that [for military police], every suspect is a trained killer.
He also explains Reacher's general character:
He is free from any sort of anxiety. He is truly not encumbered by all the bulls–t that makes up our daily lives... He literally and figuratively has no baggage. ... He is an extremely pragmatic, matter-of-fact person. He's very solitary, but he can't walk away from a situation that needs to be made right. His own sense of right and wrong tie into that situation and he can't leave until it's been resolved. That's his Achilles heel.
Paramount has enough confidence in Cruise and Jack Reacher to schedule the film for December 21, plainly hoping to duplicate some of the success found in that same timeframe last year with Cruise and Mission: Impossible – Ghost Protocol. Hopefully we'll get a better idea of how Cruise works as the character, when the trailer hits soon.