'Here Comes The Boom' Trailer - Kevin James Does MMA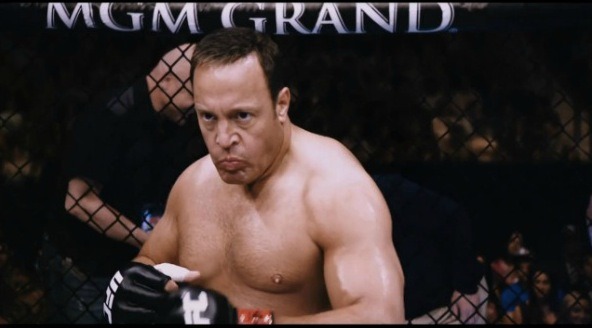 If you watched the movie Warrior and thought, "This movie needs more Kevin James," then today is your lucky day. Sony has just released the first trailer for Here Comes The Boom, a comedy directed by Frank Coraci (The Waterboy) about a high school teacher (James) who becomes a mixed martial arts fighter with the hopes to make enough money to save his school. Co-starring Salma Hayek, Henry Winkler and the official endorsement of the number one MMA organization, the UFC, the film now opens October 12. Check out the trailer below.
Thanks to Fandango, here's the trailer for Here Comes The Boom.
I'm an MMA fan who put Warrior in his top ten list of last year. I've been to live events, watched the pay per views, learned about some of the techniques and know full well that Kevin James is a massive fan of the sport. Unfortunately, I've never enjoyed one of his movies. So it's no wonder that I watched the above trailer completely stone faced. How many times can one man fall on his face and make it funny?
Then the trailer started to become something else. You saw that it's not really about the laughs. It's about the way one man can inspire many and, in that aspect, it reminded me of Warrior, Rocky, and a bunch of other great sports movies. Here Comes the Boom began to intrigue me.
That's not saying Here Comes the Boom is going to be a great sports movie. In fact, I have a feeling it'll eventually be playing on ironic double bills with Ready to Rumble and No Holds Barred, but that doesn't mean it can't potentially be entertaining.
What did you think of the trailer for Here Comes The Boom?