'Devil's Knot' Director Atom Egoyan Sees West Memphis Three Case As "A Piece Of American Mythology"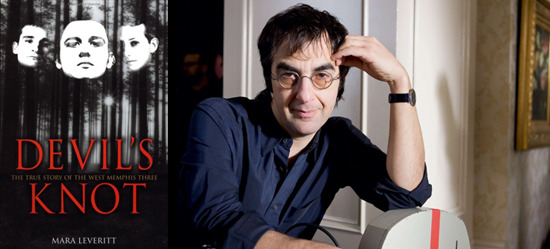 Even after the three men were freed last year, Damien Echols, Jessie Misskelley, and Jason Baldwin, aka the West Memphis Three, remain figures of intense interest. There are four major documentaries about the murder case that saw the three young men sentenced to death (Echols) and life in prison (Misskelley and Baldwin) for the murders of three boys. There has long been a strong argument for the innocence of the Three, and there is nothing quite so compelling as a story of failed justice.
Atom Egoyan, director of The Sweet Hereafter and Chloe, is making Devil's Knot, a piece of fiction inspired by the case. The cast features a mixture of well-known names (Reese Witherspoon, Colin Firth, Amy Ryan) and newcomers and lesser-known actors such as James Hamrick, Kristopher Higgins, and Justin Castor who play Echols, Misskelley, and Baldwin.
Now Egoyan has talked about what his film will be, and how he sees the case.
The Wall Street Journal talked to Egoyan, and summarizes the film's approach as being focused on "the mother of one of the murdered boys, played by Reese Witherspoon, and the private investigator who worked for the teens' defense team, played by Colin Firth."
More interesting is the way that Egoyan expresses his interest in the story, which he seems to see as a significant moment in American culture.
I mean what we're focusing on is the two other characters – the mother of one of the boys who was killed, and this private investigator who was working for the boys' defense team. It is a fiction based on reality of course, but I consider the West Memphis Three story a piece of American mythology now. After four documentaries and the way that story has persisted, it has become a story that I think will be looked at and reinterpreted because it is one of the most exhaustively examined pieces of crime and certainly a murder story outside of a celebrity of president. I can't think of any other story that's been unsolved, which remains at some level mysterious, and also which has been subject to such scrutiny. You go on the Internet, and it's kind of amazing, these sites that are devoted to every piece of testimony, every piece of evidence. It has lingered in the American consciousness in a certain way, and I think it's ripe for dramatic retelling, a reinvestigation that's not bound by the orthodoxies of documentary.
Devil's Knot is scripted by Paul Harris Boardman and Scott Derrickson based on the book of the same name by journalist Mara Leveritt. I'm a fan of Egoyan's work in general, but his last couple films haven't been as powerful as some of his work prior to 2000. The particulars of Devil's Knot, however, call back to elements of one of Egoyan's best films, The Sweet Hereafter, which focused on the effects a deadly bus accident has on a small town. I'm not hoping for a copy of The Sweet Hereafter by any means, only that the particularly compelling story behind Devil's Knot results in a similarly powerful film.