Watch Mads Mikkelsen Talk About His Frequent Director Nicolas Winding Refn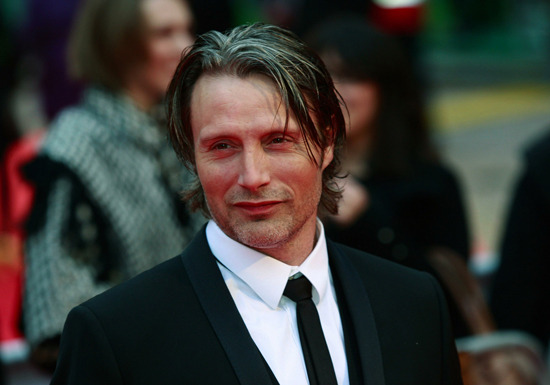 Director Laurent Duroche has created NWR, a documentary about director Nicolas Winding Refn. A teaser trailer for NWR has been out for a bit, and now a seven-minute segment featuring actor Mads Mikkelsen discussing about his relationship with Refn, and the four films they've done together: Pusher, Bleeder, Pusher II, and Valhalla Rising.
As a retrospective look at the films Mikkelsen and Refn made together, there naturally might be some info here that is considered spoilerish for each movie. I don't think there's anything that really gives away the details of any film, however. (I believe this clip also dances away from any of the specifically NSFW clips that might have been used to represent the films.)
Watch the interview below.
And here's the teaser for NWR:
NWR has no distribution deal as yet, so we can't pass along a release date. Here's more info on the picture:
Nicolas Winding Refn, forty years-old, is born in Copenhagen, he directed his first full-length film, Pusher, in 1996, at the age of twenty-six. His first American full-length film Drive premiered in competition at the 2011 Cannes Film Festival where it won him the Best Director Award. Today, the Danish film director has become one of the most promising figures of international cinema. NWR has directed films all over the world, he can associate "mainstream" cinema to "intellectual" one and be able at the same time to be without concession, disturbing, always apt to shock and fascinate his audience. NWR involves himself a lot in this documentary. He told us about his work's paradoxes and hidden sides, about his relationship with his family whom he seems to love deeply even if he may have depicted it in an ambiguous way. We have met NWR during the presentation of DRIVE in Cannes, we followed him back to Copenhagen and we'll soon leave with him to Bangkok where he will direct his next movie ONLY GOD FORGIVES starring Kristin Scott Thomas and Ryan Gosling. The interviewees: Nicholas Refn / Ryan Gosling / Mads Mikkelsen / Liv Corfixen his wife / his family / Gaspar Noé / Alejandro Jodorowsky / the journalists Philippe Rouyer (Positif) , Cédric Delelée (Mad Movies) , Fausto Fasulo (Mad Movies) ....