'Arbitrage' Trailer - Richard Gere Makes A Huge Mistake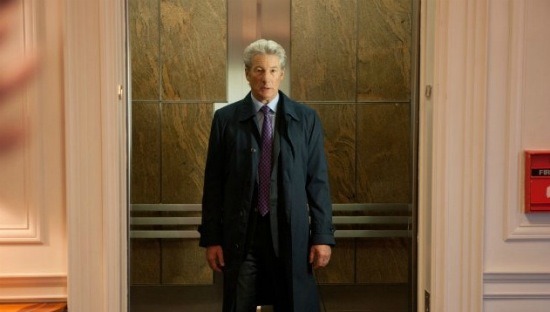 Sundance was several months ago, but for those of us who didn't attend, these next few months are going to be a good time to catch up on this year's crop of Sundance hits. Safety Not Guaranteed has already landed theaters in some cities, Beasts of the Southern Wild is hitting tomorrow, The Queen of Versailles is due out next month, and Robot and Frank is slotted for August. Add to that list Nicholas Jarecki's white-collar thriller Arbitrage, which is now getting the word out for its September release.
Richard Gere stars as a billionaire CEO whose success turns out to be built on little more than lies and deceit. When a horrible error threatens to expose him for a fraud, he finds himself sinking to ever-more-despicable depths to try and cover up his mistake. Susan Sarandon, Tim Roth, and Brit Marling also star. Watch the trailer after the jump.
Click over to Apple for the HD version.
Arbitrage is just one of a number of films we've seen lately that try to grapple with the economic climate. If this thriller doesn't manage to say anything particularly new or insightful about the topic, it sounds like it at least delivers on its promise of a good time. Our own Germain called it "a rock solid, entertaining and engaging drama," singling out Gere's performance for special praise, and most of the other reviews I've seen seem to be along the same lines.
Arbitrage hits theaters and VOD on September 14.
ARBITRAGE, the feature-directing debut of writer Nicholas Jarecki, is a taut and alluring suspense thriller about love, loyalty, and high finance. When we first meet New York hedge-fund magnate Robert Miller (Richard Gere) on the eve of his 60th birthday, he appears the very portrait of success in American business and family life. But behind the gilded walls of his mansion, Miller is in over his head, desperately trying to complete the sale of his trading empire to a major bank before the depths of his fraud are revealed. Struggling to conceal his duplicity from loyal wife Ellen (Susan Sarandon) and brilliant daughter and heir-apparent Brooke (Brit Marling), Miller's also balancing an affair with French art-dealer Julie Cote (Laetetia Casta). Just as he's about to unload his troubled empire, an unexpected bloody error forces him to juggle family, business, and crime with the aid of Jimmy Grant (Nate Parker), a face from Miller's past. One wrong turn ignites the suspicions of NYPD Detective Michael Bryer (Tim Roth), who will stop at nothing in his pursuits. Running on borrowed time, Miller is forced to confront the limits of even his own moral duplicity. Will he make it out before the bubble bursts?