'Frankenweenie' Trailer - Tim Burton's Literal Return To Form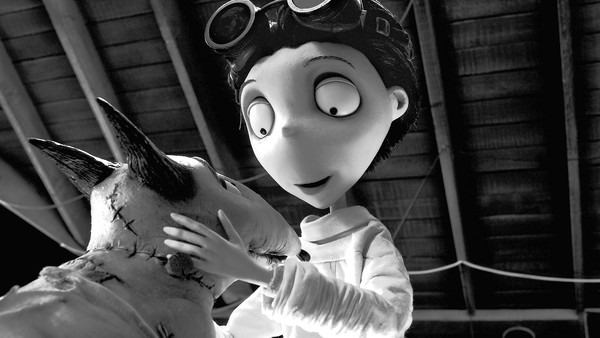 Tim Burton has been in something of a slump these past couple of years. Alice in Wonderland and Dark Shadows both received mixed to negative reviews, although the former went on to make tons of money anyway. And his latest producing efforts haven't fared much better: 9 proved a forgettable flop, while this past weekend's Abraham Lincoln: Vampire Hunter left audiences rolling their eyes.
But there is one Burton movie on the horizon that could turn things around. Frankenweenie, a black-and-white stop-motion animated feature based on Burton's own short film from 1984, looks like a return to the weird but warm Burton of old. The early promos focused mainly on young Victor Frankenstein (voiced by Charlie Tahan) and his attempt to bring his deceased dog Sparky back to life, but Germain revealed after watching a 26-minute preview that the story actually becomes much bigger than that. The newest trailer gives us a better idea of what exactly happens next. Watch it after the jump.
Bringing a cute little dog back from the dead seems harmless enough, but it should come as no surprise to anyone who's seen Jurassic Park that reviving big, vicious creatures — and lots of them — can only spell trouble. It's a much darker twist than the earlier marketing led us to expect, but that makes Frankenweenie all the more appealing. The intersection between heartfelt, funny, and morbid is where Burton shines brightest, so we've got high hopes for this one.
Also featuring the voices of Catherine O'Hara, Winona Ryder, Martin Short, and Martin Landau, Frankenweenie lands in IMAX, 3D, IMAX 3D, and plain old 2D on October 5.
Synopsis:
From creative genius Tim Burton ("Alice in Wonderland," The Nightmare Before Christmas") comes "Frankenweenie," a heartwarming tale about a boy and his dog. After unexpectedly losing his beloved dog Sparky, young Victor harnesses the power of science to bring his best friend back to life–with just a few minor adjustments. He tries to hide his home-sewn creation, but when Sparky gets out, Victor's fellow students, teachers and the entire town all learn that getting a new "leash on life" can be monstrous.