'The Hunger Games: Catching Fire' Casting Rumor Roundup: Jena Malone Up For Johanna Mason, Kevin Nash And Lil' Romeo In Talks For Unspecified Roles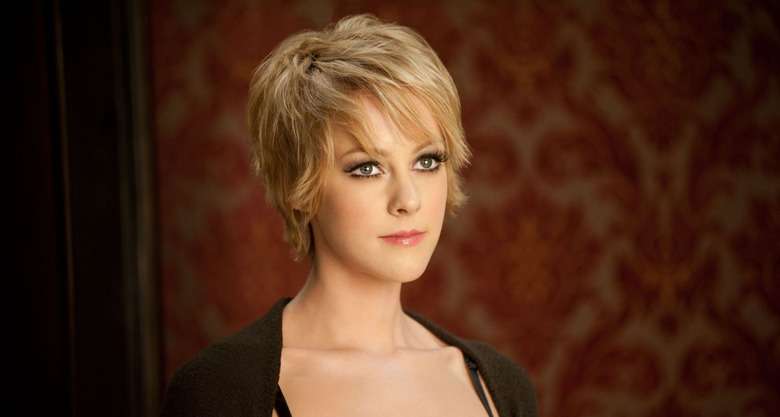 The earliest The Hunger Games: Catching Fire rumors revolved around Finnick Odair, but the character that seems to be getting all the attention right now seems to be Johanna Mason. Mia Wasikowska and model/actress Zoe Aggeliki were said to be in the mix for the key role last week, but as of now Wasikowska has apparently dropped out while Jena Malone has been added to the list of candidates. And honestly, I think she may be my favorite pick yet.
Meanwhile, rapper/actor Romeo Miller (f.k.a. Lil' Romeo) and pro wrestler Kevin Nash have both mentioned that they're circling roles in the series, although they have not revealed which. Read more about Malone, Miller, and Nash after the jump.
Speaking as a fan, I think Malone is a fantastic fit for the part. Over the years, she's demonstrated the right mix of steeliness and vulnerability that Johanna requires, and her age puts her in the right range — definitely older than 17-year-old Katniss (Jennifer Lawrence, who is actually 21), but still in her 20s.
As for Wasikowska, her reps are saying that she was never even approached and that she wouldn't have been able to squeeze the part into her schedule even if she had been. The Playlist stands by their source, insisting that she was at least under consideration. In any case, the point is that she will not be involved in the film. It's just as well. Wasikowska would've been a fine pick for Johanna, but not a perfect one, and besides, she's got no shortage of other projects to move on to.
Moving on to the other possible Catching Fire co-stars, Miller revealed during an interview with MTV that he had spoken with the studio about the film. "I actually just met with Lionsgate about that, so you may be seeing me in one of the Hunger Games. That's all I'm saying," he said. "Not a particular role, we just had a meeting, seeing if it was something I was interested in. I can't really talk too much, or they'll kill me. You know how The Hunger Games is."
I've been racking my brain trying to think of which characters might fit his description, and haven't really come up with a good answer. Finnick is one possibility, since his race is never explicitly stated in the books (his skin is merely described as "tan"). However, as all of the actors rumored so far have been white I suspect they're looking to cast a Caucasian actor in the part. If you can think of anyone else, do let us know.
And bringing this roundup of Catching Fire casting rumors to a close is Nash. The WWE wrestler mentioned during the Magic Mike red carpet premiere that he was in talks for a role, but wouldn't get more specific. "I just pray it's recurring, that he doesn't get killed," he said. Nash's age and appearance would point to former victor Brutus, a vicious middle-aged man, as the most likely part.
Catching Fire is expected to shoot in late summer or early fall under director Francis Lawrence. A release date of November 22, 2013 has already been set.