Mia Wasikowska And Zoe Aggeliki Up For Johanna Mason Role In 'The Hunger Games: Catching Fire'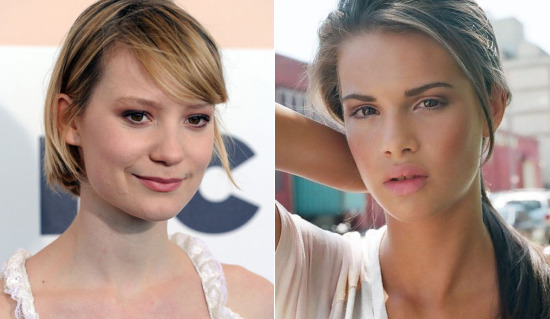 As the start date for The Hunger Games: Catching Fire nears, talk of casting is heating up. We've already seen several (disproven) rumors surrounding fan favorite character Finnick Odair, and Philip Seymour Hoffman got offered the part of Plutarch Heavensbee before speculation about that role even really got a chance to pick up steam. Today the focus is on the character Johanna Mason, another key figure who makes her first appearance in the sequel.
Director Francis Lawrence has been looking at both big names and unknowns for the part, as evidenced by the two first actresses named as possibilities for the role. According to a new report, Mia Wasikowska and model-turned-actress Zoe Aggeliki are in the mix to play Johanna. Read more after the jump.
Like Finnick, Johanna is a former Hunger Games victor who's a few years older than Katniss (Jennifer Lawrence) and Peeta (Josh Hutcherson). Crafty and fierce, Johanna won in her year by feigning weakness so her competitors would underestimate her. The character develops a prickly relationship with Katniss, but the two eventually come to respect each other on some level. This is the first we've heard of actual casting for the part, although high-profile Hunger Games diehard Kristen Bell has been campaigning for the role since last year.
Over the past couple of years, Wasikowska's climbed from relative obscurity to become one of the hottest young stars in Hollywood, thanks to well received turns in Alice in Wonderland, The Kids are All Right, and Jane Eyre, among other things. She'll next be seen in the star-studded bootlegging drama Lawless, and is currently shooting Richard Ayoade's Fyodor Dostoevsky-inspired comedy The Double.
But if Wasikowska is still something of an up-and-comer, Aggeliki is such a total newcomer that she actually hasn't appeared on the big screen yet. But she seems to be on the rise as well, with upcoming roles in the comic book adaptation R.I.P.D. and the YA sequel Percy Jackson: Sea of Monsters. Catching Fire could very well be her next step toward the top, as The Playlist's sources say she's likelier to get the part, and could be signing a deal soon. Though it's just as likely we'll be hearing more speculation, some reliable and some not, before anything's set in stone.
Catching Fire is slated to open November 22, 2013.Discuss: Do you like Lawrence's choices for Johanna? I don't know anything about Aggeliki and I like Wasikowska, but secretly I'm still rooting for Bell.