Sequel Bits: 'Anchorman 2', 'How To Train Your Dragon 2', 'Iron Man 3', 'Dumb And Dumber 2'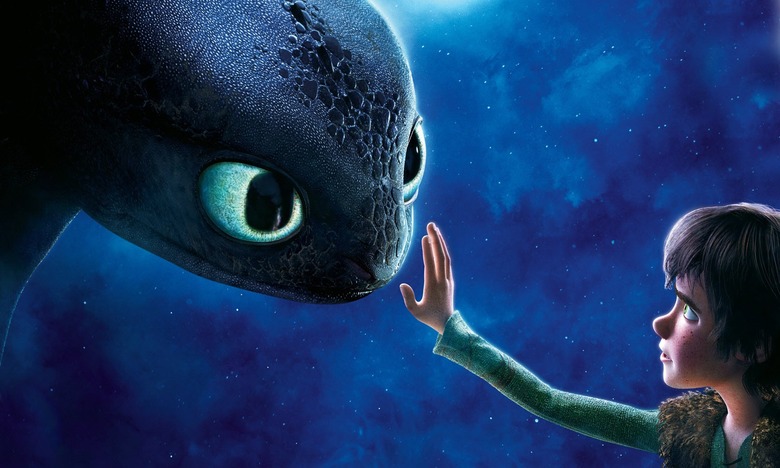 This edition of Sequel Bits is all about the movie stars. After the jump:
Steve Carell thinks small for Brick in Anchorman 2
Hiccup and Toothless find a villain in Kit Harington
Andy Lau's kid makes him drop out of Iron Man 3
Jeff Daniels still wants to do Dumb and Dumber 2
While Carell didn't give away any plot details, he outlined what he'd like to see happen to Brick. Apparently, he doesn't think bigger is better when it comes to this particular character:
The ideal scenario for Brick would be that he has not changed at all. And he remains in the background and that he is used sparingly. [...] I think that's where Brick lives. I think he's sort of a background guy and I think that's part of the charm, that occasionally he'll say something that is completely disconnected to everything else that has preceded it. So that would be my vote.
Anchorman 2 hits theaters next year.Game of Thrones viewers know Kit Harington as heroic, honorable-to-a-fault Night's Watch brother Jon Snow, but one of his upcoming big-screen gigs will see him turning to the dark side. Harington has just entered talks to voice a villainous warrior in How to Train Your Dragon 2, joining returning stars Jay Baruchel, Gerard Butler, and Craig Ferguson, among others.
Harington's other upcoming roles include Silent Hill: Revelation 3D (opposite GoT dad Sean Bean) and the fantasy adaptation The Seventh Son. The rising star was also attached to star in David Dobkin's Arthur & Lancelot before the film was scrapped for budget reasons. How to Train Your Dragon 2 will open June 20, 2014. [Variety]
With shooting already underway, Iron Man 3 is suddenly down one actor. Chinese star Andy Lau, who was in talks to play Tony Stark's pal, has just dropped out of the film due to the birth of his first child with wife Carol Chu. Disappointing news, but I suppose I can't really blame a guy for wanting to spend some time with his newborn.
Ironically, fatherhood would've been a key component of his role in the film as well. Lau's character was a businessman whose daughter gets kidnapped, causing Iron Man to head to China in a rescue effort. I assume the role will be recast, but we haven't heard any new names at this time. Iron Man 3 will premiere May 3, 2013. [Latino Review]
Dumb and Dumber 2 was dealt a potentially fatal blow earlier this week when Jim Carrey dropped out due to a lack of studio interest. But Jeff Daniels has his fingers crossed that the project will get back on track. "Jim's upset, but he's got a pretty good reason to be. My hope is that it will [get made]," he told Late Late Show host Craig Ferguson. "[Carrey] wants to do it, the Farrellys want to do it, I want to do it."
Daniels added, jokingly, that the film was important not just to him but the country. "I think America needs it," he said. "We haven't had a God's honest dumbing-down of America in a long time." [CBS via HuffPo]