Warner Bros. Hits Pause On Johnny Depp's 'The Thin Man' Remake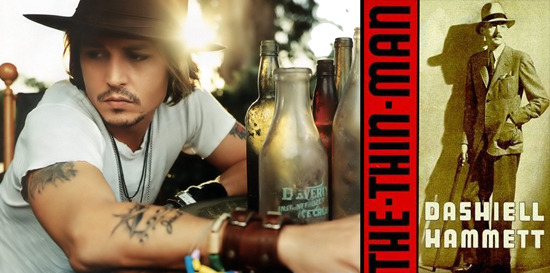 Warner Bros. has been treading carefully with movie budgets lately, pumping the breaks on expensive projects like Arthur & Lancelot and Akira when their costs ballooned out of control. Now it looks like latest project to come under scrutiny from the numbers department is The Thin Man, Johnny Depp and Rob Marshall's adaptation of the Dashiell Hammet classic.
Although the film's been on track to shoot this November, Warner Bros. has just put the film on hiatus. While the studio hasn't officially commented on its reasons, it seems to boil down to a combination of high costs and bad timing. Read more after the jump.
Probably the biggest factor here is money. The project recently submitted a budget in the $100+ million range — a figure high enough to give Warner Bros. pause. Definitely not helping matters is the fact that Depp's last outing with the studio, Tim Burton's Dark Shadows, cost $150 million to make but underwhelmed at the box office.
And then there's the simple issue of scheduling. Marshall has now decided to shoot Disney's Into the Woods next, pushing The Thin Man farther down on his to-do list. On top of that, the recently separated Depp is hoping to take a bit of a breather after his current (and very troubled) project The Lone Ranger, so he's in no hurry to get the ball rolling either.
At this point, it's unclear how bad the news really is for The Thin Man. For its part, Warner Bros. is insisting that there's no behind-the-scenes drama, and that it just hasn't given the green light yet. So it's possible that the film will proceed as planned, though likely with a slimmer budget. On the other hand, the studio's shown a willingness to scrap a film altogether rather than throw money at a movie they don't think is worth it. If the parties involved can't reach a compromise on the budget, Warner Bros. could very well make the pause permanent.