'Transformers 4' To Be Cheaper, Likely To Go Into Space And Don't Call It A Reboot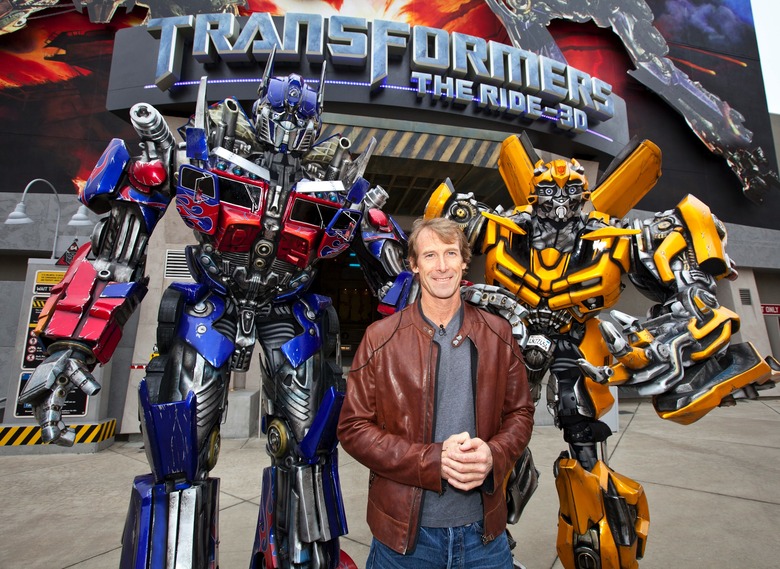 While many of us soon begin our summer vacations, Michael Bay is going back to work. Next week, the director will transition from his small film Pain and Gain to full on pre-production mode for Transformers 4. Speaking to the Los Angeles Times about the project, he dropped several new pieces of information.
We already know the film will feature a whole new cast, but Bay explained a bit about how Transformers 4 is not a reboot. He also said it seems natural the film would take place partially in space  but it won't be a full on Cybertron-set story because he has to make the movie for about $30 million less than Transformers: Dark of the Moon. Space is pricey.
Read his quotes and more after the jump.
Bay spoke to the Los Angeles Times about the film while promoting the Transformers ride now at Universal Studios Hollywood. Despite the new cast, he said it's not a reboot:
It's not a reboot, that's maybe the wrong word. I don't want to say reboot because then people will think we're doing a Spider-Man and starting from the beginning. We're not. We're taking the story that you've seen — the story we've told in three movies already — and we're taking it in a new direction. But we're leaving those three as the history. It all still counts. I met with the writer before I went off to do 'Pain and Gain' and we talked about a bunch of ideas. We let that simmer for a bit. He's been thinking about stuff and now we're getting back together next week to see what we've got and to see if it gels.
So does that mean Optimus Prime and the crew will be leaving Sam behind on Earth and venturing out into space?
I think so, yeah, a little. That feels like the way to go, doesn't it? I want to go a little off but I don't want to go too sci-fi. I still want to keep it grounded. That's what works in these movies, that's what makes it accessible.
Bay said the movie would have to be made for about $30 million less than Dark of the Moon (which Box Office Mojo has budgeted at $195 million so don't expect it to be small) and that it would, once again, be his last:
Here's the thing, it's tough to find someone who's done these kind of movies and to have the complication of creating the new stuff that needs to be in this movie – not just characters but a new type of action, I hope – and that's a lot for someone new to bite off. And so after this one I will leave it in the best hands possible. That's the plan.
Head over to the Los Angeles Times to read the rest of the article where he talks about his love for the ride, franchise and more.
Transformers 4 will be released in June 2014. Do you trust that Bay can make it the best yet? Do you care?